Ways to Use Your Giant Keyboard
Any teacher who is interested in having classroom décor with a computer/technology theme will be well served with a giant keyboard display.  You can have an adorable and stylish classroom while still maintaining a highly academic environment! Let's see what it looks like, as well as a few ways you can use a giant keyboard in your classroom.
What is a Giant Keyboard?
A giant keyboard is a bulletin board sized printed keyboard to use with your students. Teachers can put it up on display on their classroom walls or take it out for large floor games.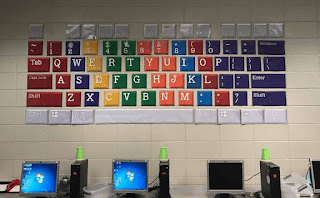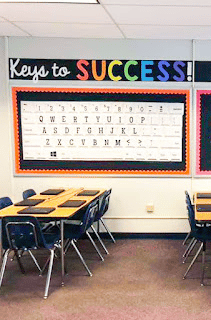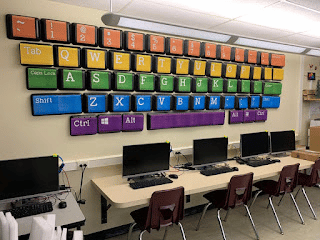 Ways to Use Your Giant Keyboard
Games to Play on the Floor
Giant keyboard games are unplugged, and a great way to get kids up and moving! Use a bit of painters tape to attach the keys to the floor and get to work exercising both their brains and their muscles.
Practice skills such as:
keyboard fluency
usernames
letter recognition
sight or spelling words
coding and following directions
Letter Match Up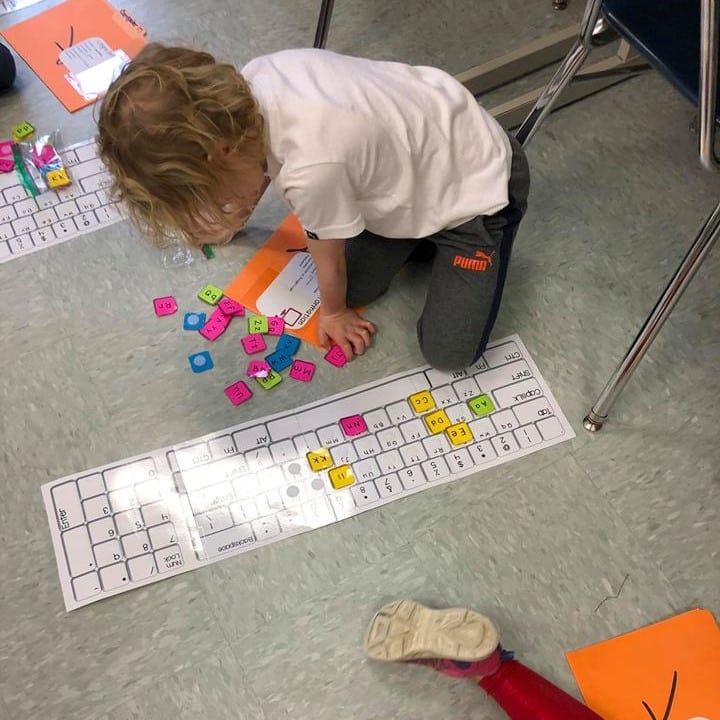 Print both the upper and lower case set of keys for your youngest students who are still learning uppercase vs lowercase letters. Put together one set yourself, then have your students match up the other case on top. This game can be played with your wall display just as easily!
Beginning Sound Match
Another good game for younger students is to have them race to run and jump onto a key that has the beginning sound of a word you say. Alternatively, just have a small (or big!) deck of cards with pictures of items on them for the students to flip through. Play this game with your wall display too!
Keyboard Recreation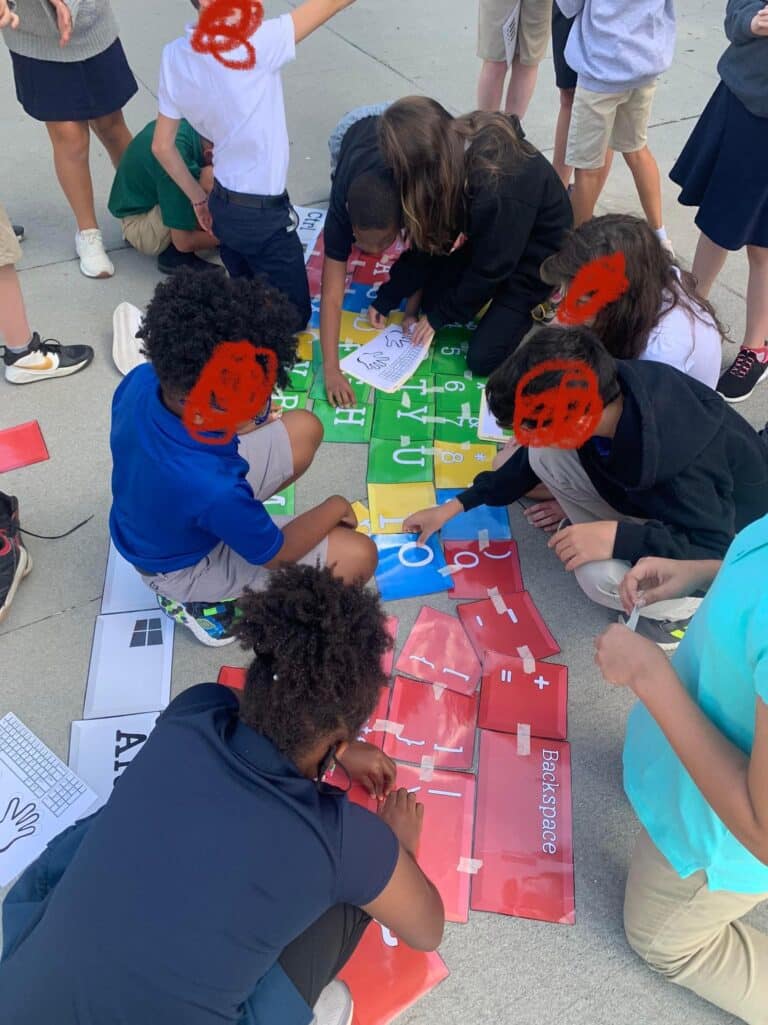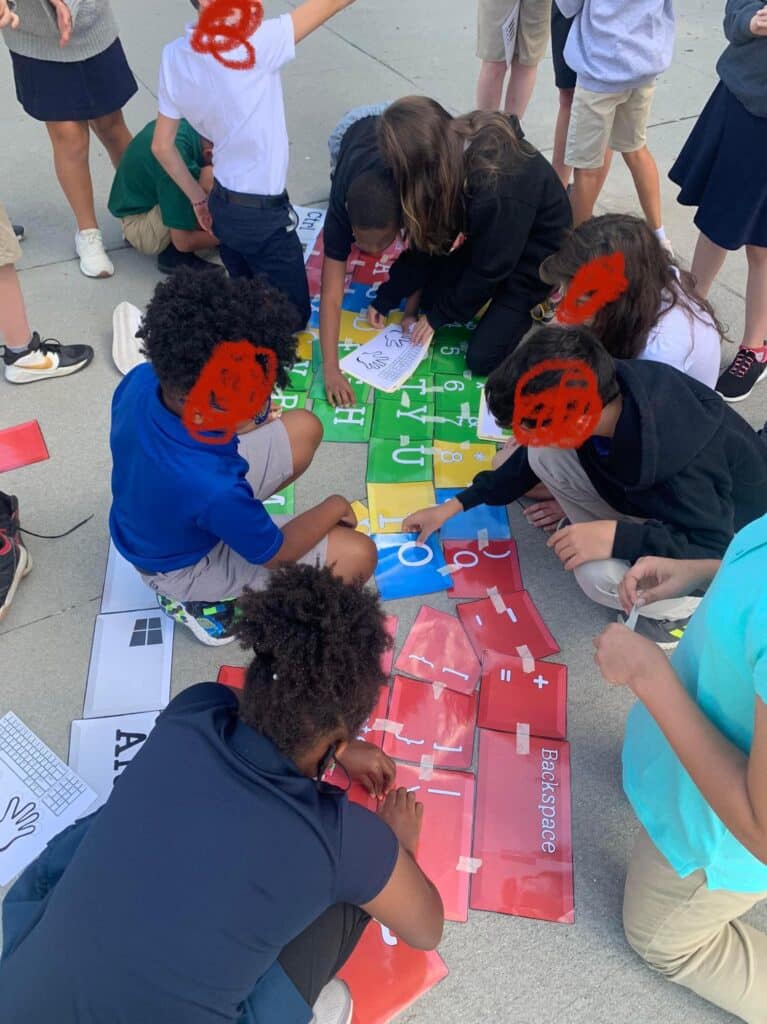 Set up teams, then give each a stack of keys and let them get to work recreating an accurate keyboard layout on the floor. You can even do a "Build your own keyboard" race outside! Only attempt this on a day with no wind though… and bring lots of tape.
Keyboard Twister
Challenge your kids to put their hands and feet on different keys, until they are too twisted up in knots to go on!
Code Robots
Have students guide robots across the keyboard to spell words, type their username, or write secret messages.
Where Do I Get One?
My Giant Keyboard for the Computer Lab is ready-made for your classroom! It meets the needs of grades K-8. The colors are timeless and bright so you can use them with any grade level and they will be perfectly appropriate. My favorite part about this set is that it is customizable with both colors and keyboard special keys.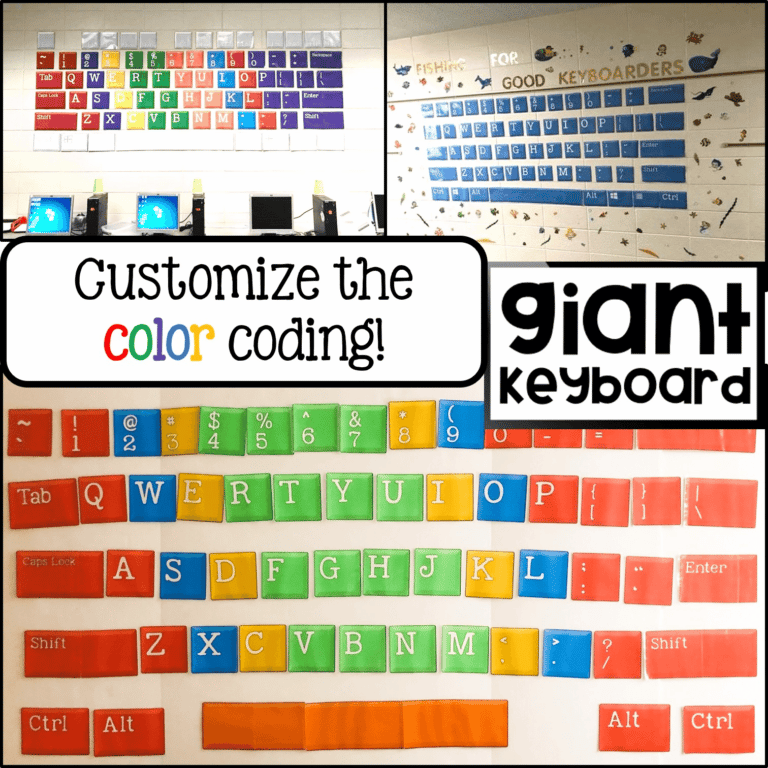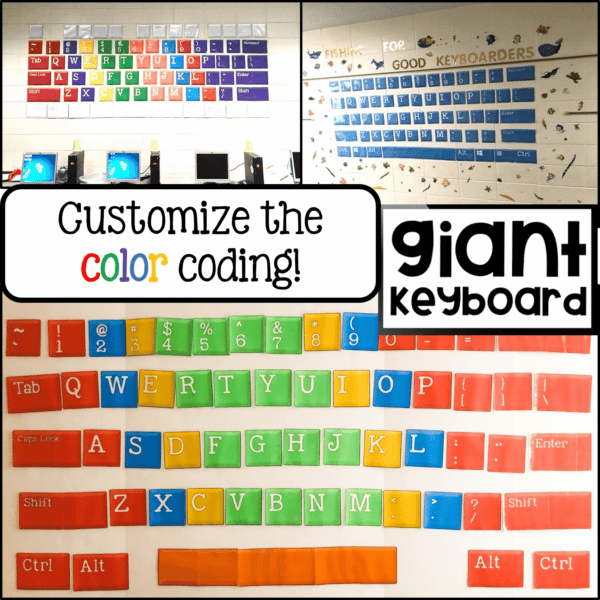 This set includes:
• 6 colors of each of the keys that you can print and display any way you choose. Customize the colors however you need to for your students!
• One page display in both color and black and white for you to print poster size if you don't want to do each color individually.
• Home row hand placement printable pages.
Don't want to put one together? These Computer Lab Posters come in a variety of sizes, and include hand placement color coding in the display.
Alphabet Keyboard Practice is an oversized, but not giant, resource that may be just what you need to fill the gap. Goldilocks tried a little of everything, why not you?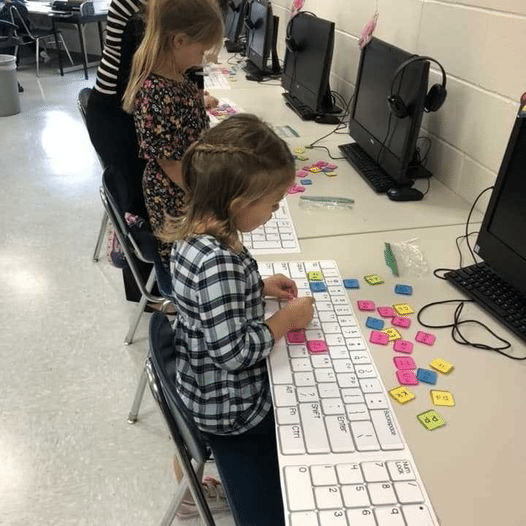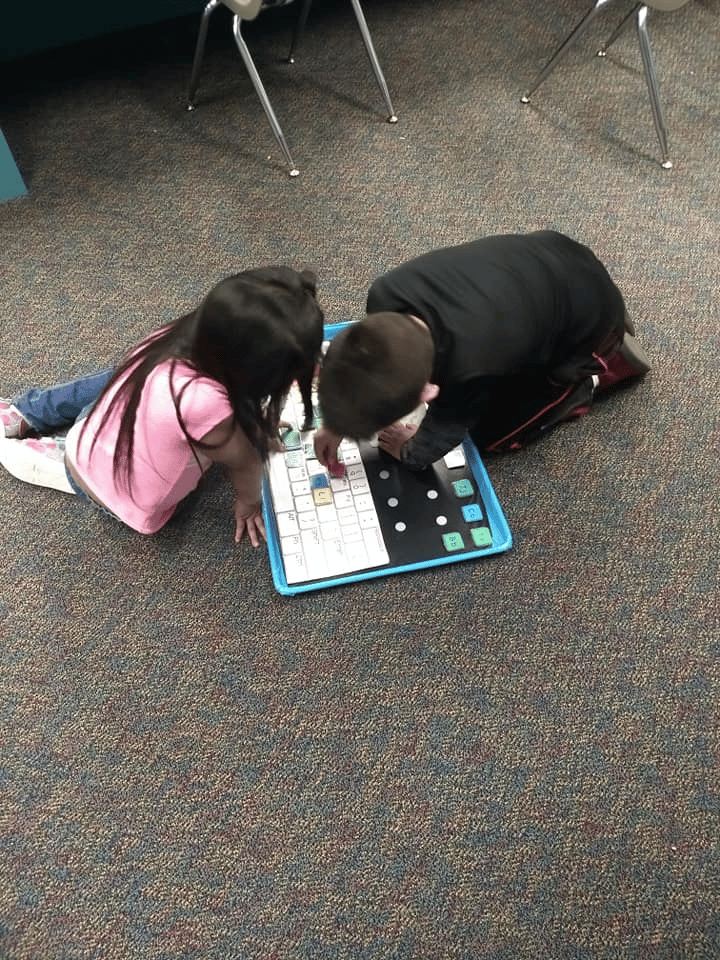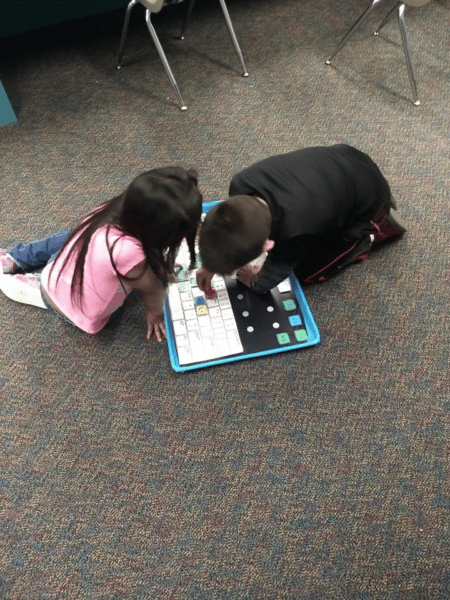 Tips for Teachers
Laminate it! Since no individual key is that large, this resource would be easy to laminate yourself. A small 9″ wide thermal laminator will do the trick.
Consider making two copies of giant keyboard. This way you can have one on display on your walls as well as one to play floor games with.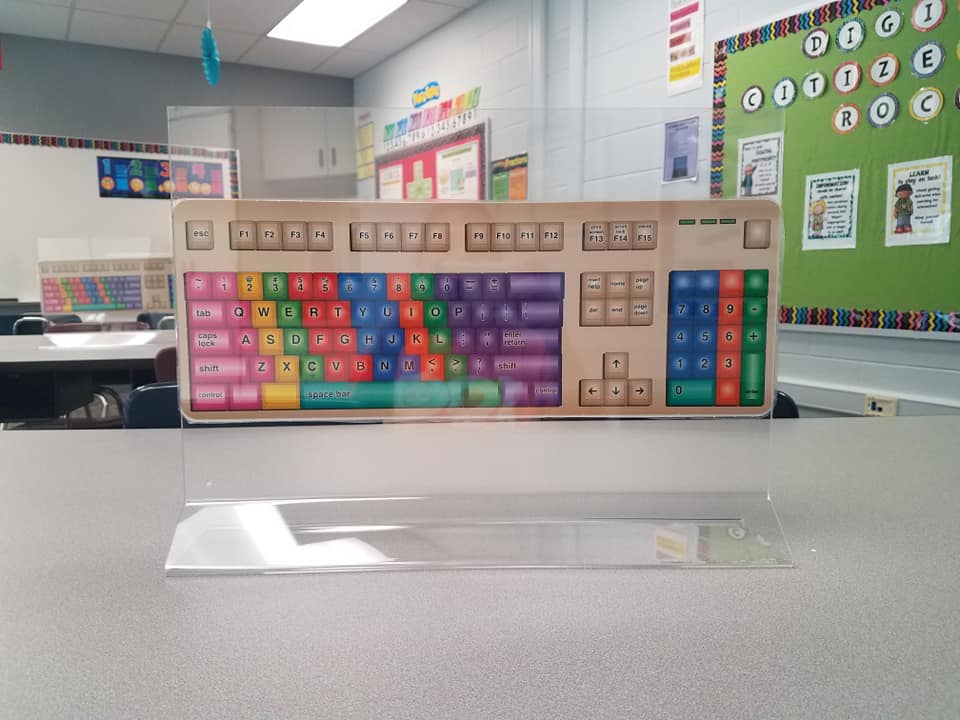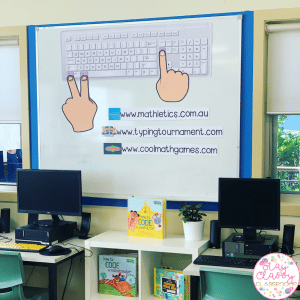 While giant keyboards are fantastic, remember that most activities using them do not work on the fine motor skills. Your students need those to become proficient in keyboarding too. Here are some tech activities that develop those fine motor skills:
Interested in MORE Keyboarding Ideas? Check out these other blog posts in the Typing Category:
As the world becomes increasingly digital, it's essential to equip our youngest learners with the…
Or Pin this post to come back to later: