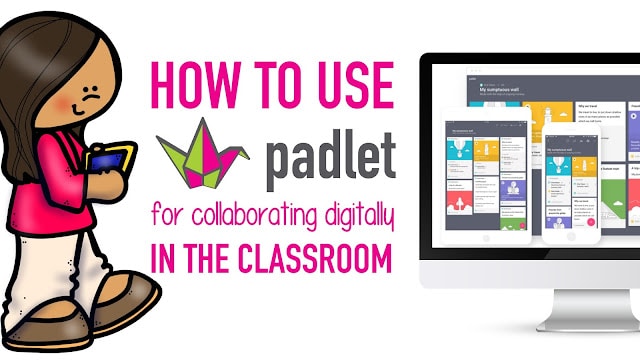 How To Use Padlet For Collaborating Digitally In
The Classroom
Over the years, technology has increased exponentially
enabling us to collaborate with a global audience and share information with
ease. Teachers, however; still find it difficult to find a tool that makes
their work efficient, user-friendly and authentic with an environment that
takes care of the safety and privacy of the students. But there is one tool
that meets all of this criteria called
"Padlet".
Through this web-based board, students and teachers can
share information, express ideas and collaborate digitally with each other. The
question is; how to really use Padlet in order to collaborate digitally in the
classroom?
COLLABORATIVE RESEARCH
Padlet is a great tool for classrooms in which small groups
are made and students are asked to have a collaborative research. The students
will be able to post images, links, clips, and videos making the traditional
notecards very effective. Students can also post driving questions about the
topic and once the answers are found during the research, answers below them
can be added in order to organize the board.
GETTING TO KNOW:
Padlet in the classroom can be created for faculty and even
students to get to know each other. Each student, along with his name can post
a note. They can also mention their future plans for something they might be
looking forward to in terms of learning or they did something productive over
the summers. It can then be a part of scavenger hunt on an open house. The
Padlet can be left projected so everyone can see it.
FORMATIVE ASSESSMENT
You post a question after a lesson to know what the
students really gained from today's lecture. The question can be big as to know
how many of them were able to reach and learn the main objective. This way, you
will know about the important points that students perceive along with the
misconceptions they might have.
BOOK STUDIES AND DISCUSSION POINTS
Moreover, Padlet is a board for discussion for teaching
groups, literature circle run by students or even a book study for staff. The
question related to the chapter can be posted by the leader and the responses
will pile up as each participant answers. The literature discussions can still
take place even if the classroom requires silence.
More uses of Padlet in the classroom include:
·

     

As a portfolio in younger class to share with parents and you can take a snapshot of
student work then share it with them.
·

      

It can be used as a class back channel for
discussions. Students post questions and/or observations during the lesson and you can respond to them later.
·

      

Sorting out pictures on Padlets for
classification and using the Interactive White Board.
·

      

Put links on a class Padlet and on the
start page, set the student web browsers. The work will be on top if you set it
to flow. This way, they will know already what they are up for today.
·

     

Think of Padlet as a bulletin board and get started to
collaborate digitally with more technology in class! 
How else have you used Padlet in the classroom?