Technology or Computer Lab Pacing Guide
It can be challenging to know what to teach and when in the computer lab. Six different grade levels, rotating schedules, standards that are complex. No wonder many new tech teachers end up teaching the same lesson 6 different ways when they first get started. I was one of them.
My goal with putting together this pacing guide is to give you an idea of how I choose to structure the year. Please know that there isn't really a wrong way to do this. If you want to start the year with internet safety, for example, do it. If you want to end every year with internet safety, for example, that is great too.
It is probably also advisable to keep things flexible. Things come up. Snow days, field trips, testing, you get it. You won't be able to stick to the pacing most years (which is why you might notice that May on my guide is pretty vague).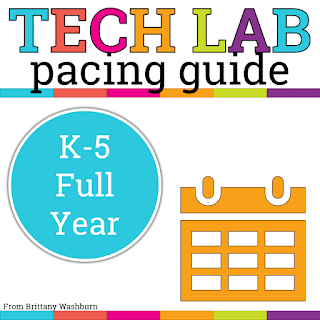 Let's jump right into it now. I've made this a PDF so that you can click the resources I curated. Click on the picture above to download this free file.
Kindergarten Tech Lab Pacing
Kindergarten needs to master the mouse and keyboard before they can move efficiently on the computer. You'll see the beginning of the year dedicated to this. The awesome thing, though, is that there are great academic resources available to both practice the mouse and keyboard and reinforce what students are doing in the classroom. Score!
Once these skills are mastered, it is time to move into internet safety, followed by some basic coding.
The PDF version of the pacing guide has the list of resources I use to teach each of these topics. Check them out for more details.
First Grade Tech Lab Pacing
First grade starts with a solid review of the mouse and keyboard. I learned the hard way that it isn't possible to just jump into the content without making time for those foundational skills.
Mid-fall it is time for Internet Safety. This is a unit that hits every skill set in the computer lab so I like to really dig in with 1st graders.
December is a great time for some academic content (math and ELA) so that students are engaged but also preparing for the tougher skills to come in the next units.
1st grade is when I introduce word processing and presentation software. We do really basic things with the software programs while learning to navigate.
Then, it is time for coding! Such a fun unit as first graders explore coding robots while reinforcing some technology vocabulary.
Something I think is really important for first grade is the ability to respond to reading using technology. We accomplish this through tech themed picture books and digital book companion activities.
If there is any time left at the end of the year, we review all of the skills.
Second Grade Tech Lab Pacing
Don't tell anyone, but I think 2nd graders are my favorite. They are just so sweet and eager to learn.
Anyway, I like to start the year with a quick tech vocab review and then jump into a keyboarding unit that lasts about a month and a half (depending on schedule). Their hands are finally big enough to reach all the keys on the keyboard so I take this time to establish good habits and efficiency.
After our typing unit, it is time for internet safety. I love these digital activities that reinforce the common sense media curriculum.
December is Hour of Code, so we make it last the whole month!
When students get back from break, we really dig into software programs with units on word processing, presentations, and spreadsheets. I'm always blown away by my 2nd graders abilities to learn these complex programs. I try to keep the lessons as simple as possible so that the academic content doesn't get in the way of learning technology literacy. So far so good.
By April, students have regressed in their typing skills so we do a review unit again, this time including some advanced skills like learning some keyboard shortcuts.
If there is any time left, we do some open ended technology projects that you could call STEM or Makerspace.
Third Grade Tech Lab Pacing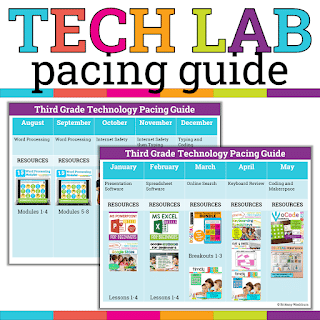 Third grade jumps right into word processing after going over the lab rules and procedures. I love this unit. They come out the other side total pros because we spend about 8 weeks going through each skill in a structured but meaningful way.
After our word processing unit we dig into digital citizenship with 4-5 weeks of lessons. Then, time for a typing bootcamp.
You see, the 2nd grade unit we did won't retain the skills forever. Every year students need to keep working on keyboarding otherwise the bad habits will sneak back in. So, we do what we call typing olympics for 4 weeks using a variety of typing activities.
Sometimes (depending on the schedule) we end up doing a week of Hour of Code in the middle of our typing unit, but its fine. It gets done.
After break, we do units on presentation software and spreadsheets. Again keeping the academic content mild so that students can really understand the programs and not get bogged down with reading.
Next comes some lessons on the basics of online search. Students are learning what search engines are and how to use them to find information. I make it engaging by using digital breakouts (it is like those escape rooms you've probably seen, but digital).
By April we have to review keyboarding so I do it in a way that also prepares students for their standardized tests. The activities are similar to those found on computer based tests.
If there is time left in May, we work on coding with robots and do some Makerspace time.
Fourth Grade Tech Lab Pacing
The fourth grade year starts with tech vocab and technology troubleshooting. I think it is really important that students this age can successfully troubleshoot basic tech problems. We also take the time to make sure students understand the technology standards we use. I love that they get a deep dive into what each standard means, and I get materials for bulletin boards for the whole school year. It is a win-win!
Then comes a unit on Internet Safety. I love Digital Passport by Common Sense Media for 4th graders. We reinforce the skills with some digital breakouts.
4th grade is when students really learn the online research process. Everything from how to narrow down a search to taking notes to creating bibliographies. It is an intense unit but it thrills the 4th grade teachers to see how their students' skills develop.
We slip in Hour of Code but don't worry, we do a full coding unit later. If there is time before winter break, I like to reinforce the online research skills with some digital breakouts. It is wild before Christmas!
When they come back, they learn about spreadsheets, word processing, and creating presentations with engaging lessons.
Before we know it it's April and time to prepare for online standardized testing. I try to keep this review engaging by using another digital breakout (can you tell my students love them? They don't even know they are learning).
We end the year with an advanced coding unit using a variety of resources. You could hear a pin drop in the room while students are learning these skills. They take so much brain power.
By the way, my 4th and 5th graders type for 10 minutes at the beginning of every session so that is why you don't see a dedicated typing unit.
Fifth Grade Tech Lab Pacing
I really push my 5th graders to be as independent and responsible as possible on their devices. This starts with lessons on troubleshooting and they also learn the ins and outs of our technology standards the same way the 4th graders did.
Then it is time to review online research. I keep this at about 3-4 lessons that go over narrowing down search results to find relevant information and evaluating websites. The skills they will need for our next units.
We go further down the rabbit hole of tech vocab than any other grade level. Students learn even obscure terms while also reviewing their keyboarding skills.
Once that is done, it is time for internet safety using a variety of resources.
December is time for lots of coding activities and I try to use different coding languages than they have learned before. They love it.
We spend the winter doing lessons on spreadsheets, word processing, and presentation software. I like to come back to these programs every year and go a bit more advanced each time. It really reinforces the skills.
In April it is time to review TEI (technology enhanced items) for their online standardized testing. We do this with a digital breakout and some google slides activities.
Just like in 4th grade we end the year with coding. We use a variety of resources and languages.
Phew! Now you have my whole plan. If you're looking for any specific topics that aren't included, email me and I'll do my best to help you find resources.
Or get it
directly from my site.
📚

Technology Teacher's Journey of Empowering Young Tech Wizards with the K-5 Technology Activities Bundle

🚀

Once upon a time, in a bustling elementary school, I found myself facing a challenge. As a dedicated technology teacher, I was passionate about preparing my students for a digital future. But I struggled to find the right resources to teach tech skills effectively. I needed a comprehensive, standards-aligned curriculum that was both engaging for my students and easy to implement.

That's when I discovered the K-5 Technology Activities Bundle. 🌟

Created by Brittany, a technology standards expert, this bundle was designed with the needs of teachers like me in mind. It offered a full year of activities that could be completed in any order, providing the flexibility I needed.

And so, my journey of transformation began. I started integrating the bundle into my lessons, and the results were nothing short of magical. 🎩💫

My classroom buzzed with excitement as my students dove into coding concepts, explored multimedia creation, and delved into digital citizenship. The bundle's activities were not just educational, but they were fun, sparking a newfound love for technology in my students.

I noticed a significant improvement in my students' tech skills. But more than that, I saw my students becoming more confident, more curious, and more creative. They were becoming tech-savvy individuals, ready to thrive in our ever-evolving digital world. 🌐

And me? I reclaimed my weekends, resting easy knowing that my planning was taken care of. I had more time to focus on what I do best—inspiring young minds.

This is my story of how the K-5 Technology Activities Bundle transformed my classroom. It's a story of empowerment, growth, and the joy of learning. And it's a story that could be yours, too.

Are you ready to embark on this educational journey?

Click here to learn more about the K-5 Technology Activities Bundle

. Together, let's equip our students with the skills they need to thrive in our digital world. 🚀🌟