Digital Activities for the December Holidays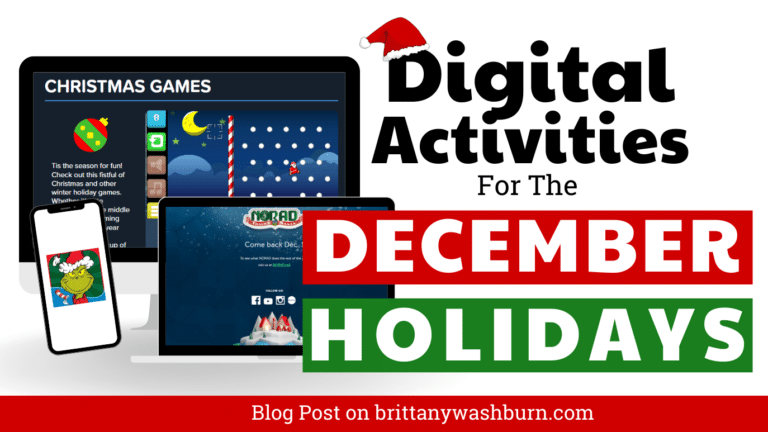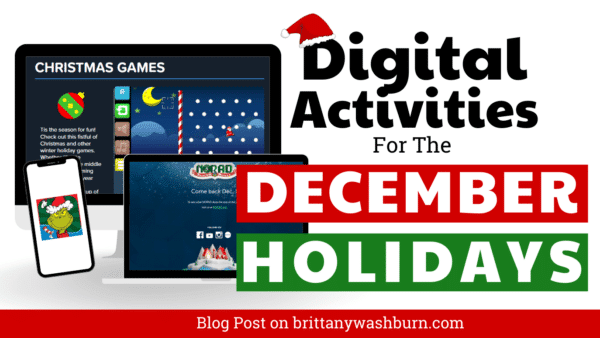 Tis' the season! Whether you celebrate Christmas, Hanukkah, or Kwanzaa (or all three) in your classroom, there are digital activities that will get your students in the holiday spirit. Here are a few of our favorites to use in Language Arts, Math, Science, and Social Studies classrooms.


Christmas
Digital Activities for Christmas in ELA
How the Grinch Stole Christmas App:
Primary
Enjoy the classic Dr. Seuss favorite with a read aloud story, activities, and parent tracker (for minutes and pages read).
Intermediate
Some students will read the play adaptation of Dickens' A Christmas Carol this holiday season. Check out the original text digitally through the Library of Congress and behold gorgeous images and authentic words in print.


Digital Activities for Christmas in Social Studies
Primary, Intermediate
Track Santa's path on maps around the world through the North American Aerospace Defense Command's official Santa Tracker, online on December 1. Have students study the geography and culture of the different places Santa is flying through as well as learn about maps and satellite technology.
Digital Activities for Christmas in Math
Primary, Intermediate
Review math facts with games inspired by Santa, elves, and all things Christmas!
Christmas Lights Math:
Primary, Intermediate
Have fun hanging up Christmas lights that you earn by answering addition, subtraction, multiplication, and division facts correctly.


Digital Activities for Christmas in Science
Frozen: Early Science – Cooking and Animal Care by Disney Imagicademy
Primary
Learn about cooking and animal care (especially for reindeers) with this fun, interactive Disney app.
Santa's Engineer
Intermediate
Help Santa with his North Pole projects with this physics and engineering app.


Hanukkah
Digital Activities for Hanukkah inELA
Primary
Look for Hanukkah related vocabulary in a simple or large interactive word search.
Hanukkah Stories

Intermediate
Read and discuss these intriguing online illustrated stories with your students before having them create their own.


Digital Activities for Hanukkah in Social Studies
Primary
Check out this interactive site to view timelines, Jewish history, candle lighting times, and study synagogues of the past.
Create a Timeline of Hannakuh events
Intermediate
Have students put together a timeline of major events in the history of Hanukkah from the Maccabean Revolt to the official dedication of Hanukkah as a holiday. Sites such as History.com are great places to start for research. Create an online timeline at readwritethink.org.


Digital Activities for Hanukkah in Math
Primary
Solve online sudoku puzzles using Hanukkah symbols. Have students track their stats for another math element to tabulate winning percentages amongst classmates.
Make a Menorah Light Chart
Intermediate
Measure the time of flames and length of candles after burning on each of the eight nights. Follow the linked lesson plan, but digitize it by using Google Sheets to record data on a spreadsheet and create graphs.


Digital Activities for Hanukkah in Science
Teach Fire Safety
Primary
Check out activities from Sparky School House to integrate fire safety into lessons about lighting the menorah.
Build an LED Menorah
Intermediate
Try this STEM activity for intermediate students (with teacher help). Take it online by having students record their process using video and uploading to YouTube or Flipgrid.


Kwanzaa
Digital Activities for Kwanzaa in ELA
Study Traditional Kwanzaa Songs
Primary, Intermediate
Kwanzaa is known for its musical traditions, and these songs will provide your students with context of the history and current practices of the holiday. Primary students can create their own videos singing Kwanzaa songs. For intermediate students, go digital by creating slides or videos (with apps like Animoto) illustrating different tunes.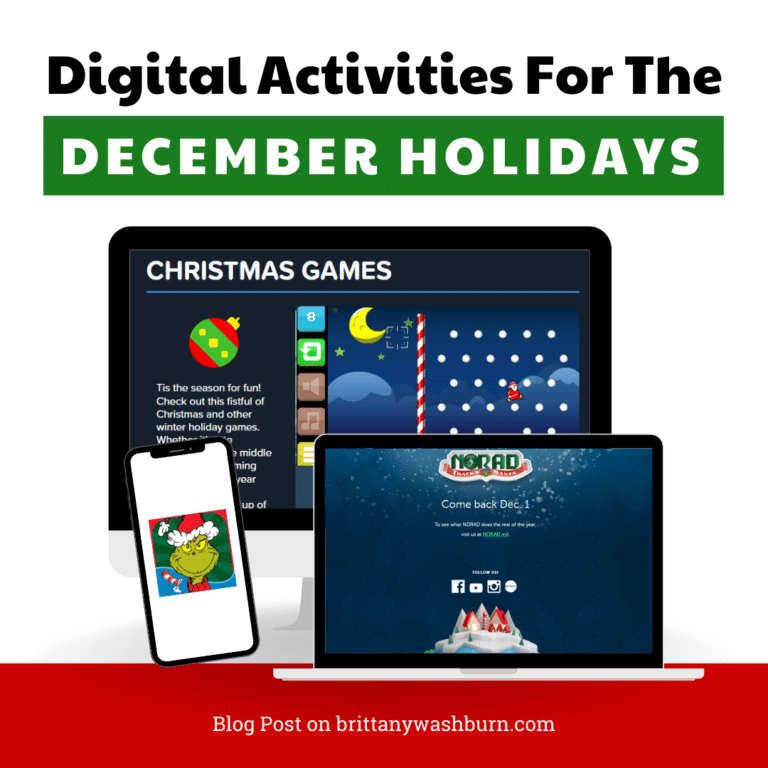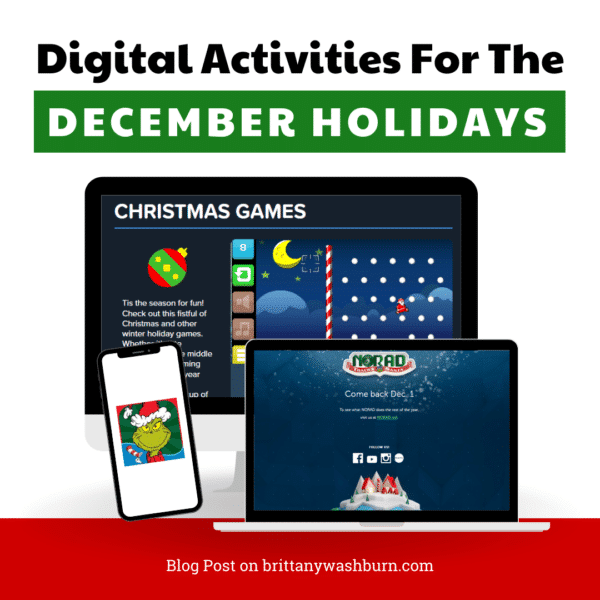 Digital Activities for Kwanzaa in Social Studies
Primary
Show your student their favorite PBS friend, Arthur, and his friend Sue Ellen's scrapbook with pages and lessons about Kwanzaa. The lesson is simple, but you have students create their own pages to add to a digital scrapbook using apps like FiftyThree.
Read about Maulana Karenga, creator of Kwanzaa.
Intermediate
Read and watch biography videos about Maulana Karenga. Have students create their own "fake" Twitter or Facebook digital profiles of Maulana or other Civil Rights leaders. They can do this by using Google Slides or Google Drawings.


Digital Activities for Kwanzaa in Math
Play Mancala
Primary
Mancala is a traditional African game where players attempt to collect the most stones in their mancala cup.
Kwanzaa Inspired Recipes
Intermediate
Go online and look for some Kwanzaa inspired recipes. Have your students record and convert measurements. They can also plan a budget for a holiday dinner given a certain amount of guests.


Digital Activities for Kwanzaa in Science
Sid the Science Kid's Holiday Adventure
Primary
Sid talks about all of his favorite winter holidays, including Kwanzaa in this special video focusing on weather. Use this activity to talk about cold winter weather in some parts of the country. Make it digital by looking at meteorology and radar maps online.
Study African American Scientists
Intermediate
Have your intermediate students research African American scientists such as George Washington Carver, Neil deGrasse Tyson, and Dorothy Johnson Vaughan. Students can create their own digital presentations via video, slides, or blogs to showcase the contributions these great Americans made to our country.
Are you looking for a full plan that you don't have to think about? Click on this image:
There are so many digital activities for your students to celebrate winter holidays. Whether your kids are celebrating at home or just learning about the traditions at school, they will love learning and collaborating with these engaging activities.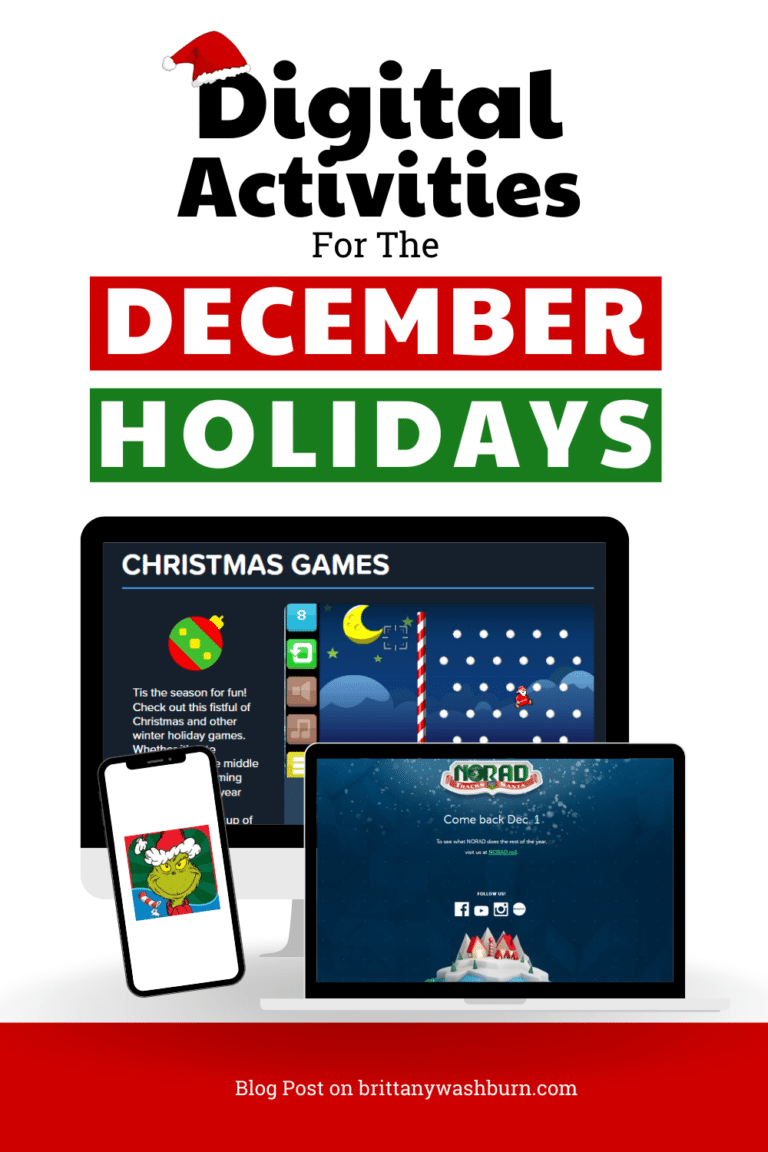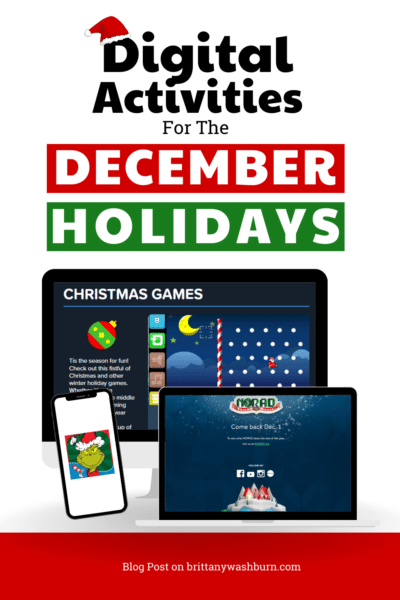 I hope these Memorial Day themed activities for the elementary computer lab help your students…