Ideas to Teach and Review Internet Safety
Having plenty of ideas to teach and review internet safety is a critical part of training our students to be good digital citizens. The internet can be a wonderful place to learn, build, and connect with others. Unfortunately, there are also those online who may intend harm. Even more immediate is the concern of how our own inexperienced students may conduct themselves online if left without guidance. In order to be safe online, it's important for you and your students to be aware of the hazards.
Why Do We Need to Teach Internet Safety?
While internet safety is an important issue for everyone, there are a few reasons young people often more at risk. For one thing, they sometimes neglect to think about the full consequences of their actions. This can cause them to share too much information about themselves or engage in other careless behaviors.
ISTE standards touch on cyberbullying and data privacy and acknowledge that being a digital citizen means learning about the responsibilities and behaviors for interacting in this space.
We can help to keep our students safe by talking to them about their Internet use as well as teaching them about online dangers.
Here are some internet vocabulary terms with kid-friendly definitions:
Internet: A global network of computers that allows users to connect with one another and access information and resources.
Website: A collection of web pages that can be accessed through a web browser and contains information, images, and videos on a particular topic.
URL: The address of a website, which is entered into the web browser to access a specific page.
Search engine: A website that allows users to search for information on the internet, such as Google, Bing, or Yahoo.
Link: A clickable element on a web page that takes the user to another page or website.
Browser: A program that allows the user to access and view websites on the internet, such as Chrome, Firefox, or Safari.
Email: A way of sending and receiving messages electronically over the internet.
Social media: Websites and applications that allow users to create, share, and exchange information and ideas with other users, such as Facebook, Instagram, and Twitter.
Online safety: Practices and technologies used to protect children and adults from online risks and dangers, such as cyberbullying, identity theft, and online predators.
Online etiquette: Rules and norms for appropriate behavior and communication on the internet, such as being respectful, responsible, and safe while using technology.
Ideas to Try
When internet safety instruction provides students with opportunities to create, apply, and utilize higher-level thinking the learning is solid.
Internet Safety Unit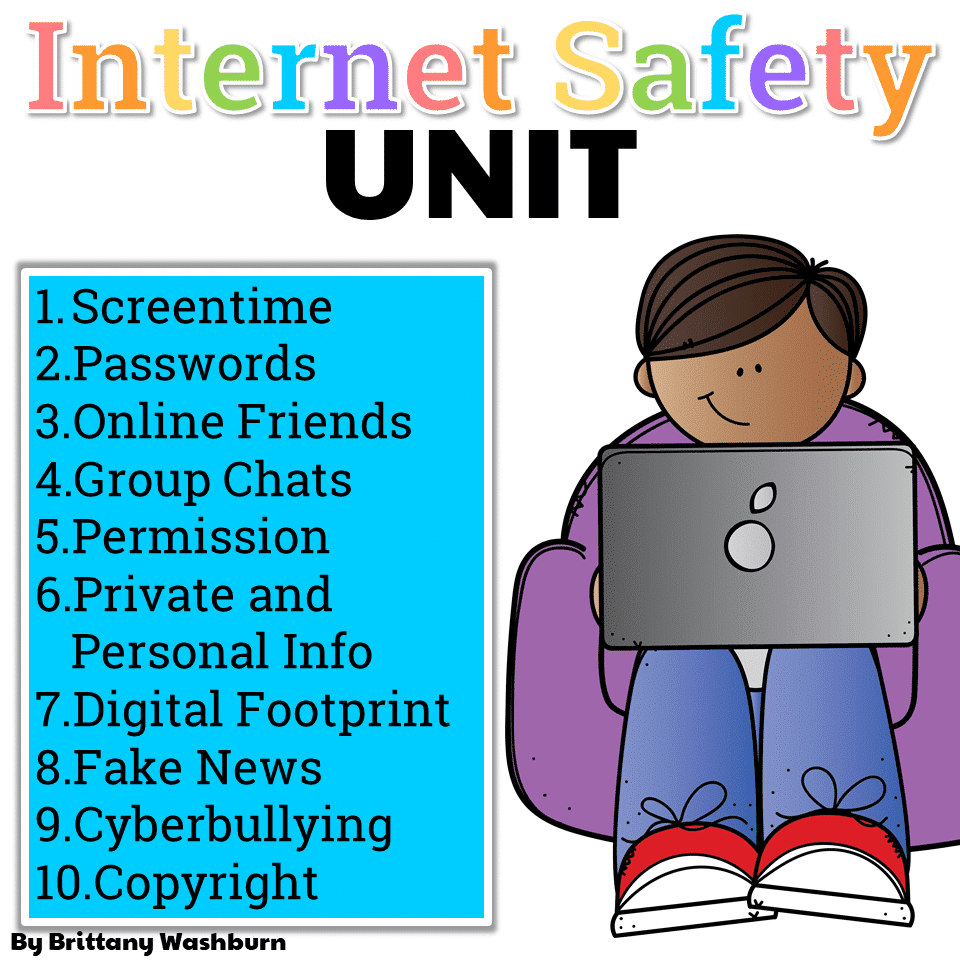 This complete Internet Safety Unit has 10 reading passages, vocab cards, a multiple choice assessment, and 40 digital activity slides for internet safety and digital citizenship topics. It is ideal for computer lab teachers to use during tech class as you can choose which topics to complete with each grade level. Another unit designed for Middle School has you covered if you work with that age group!
Activities to Supplement Common Sense Media Curriculum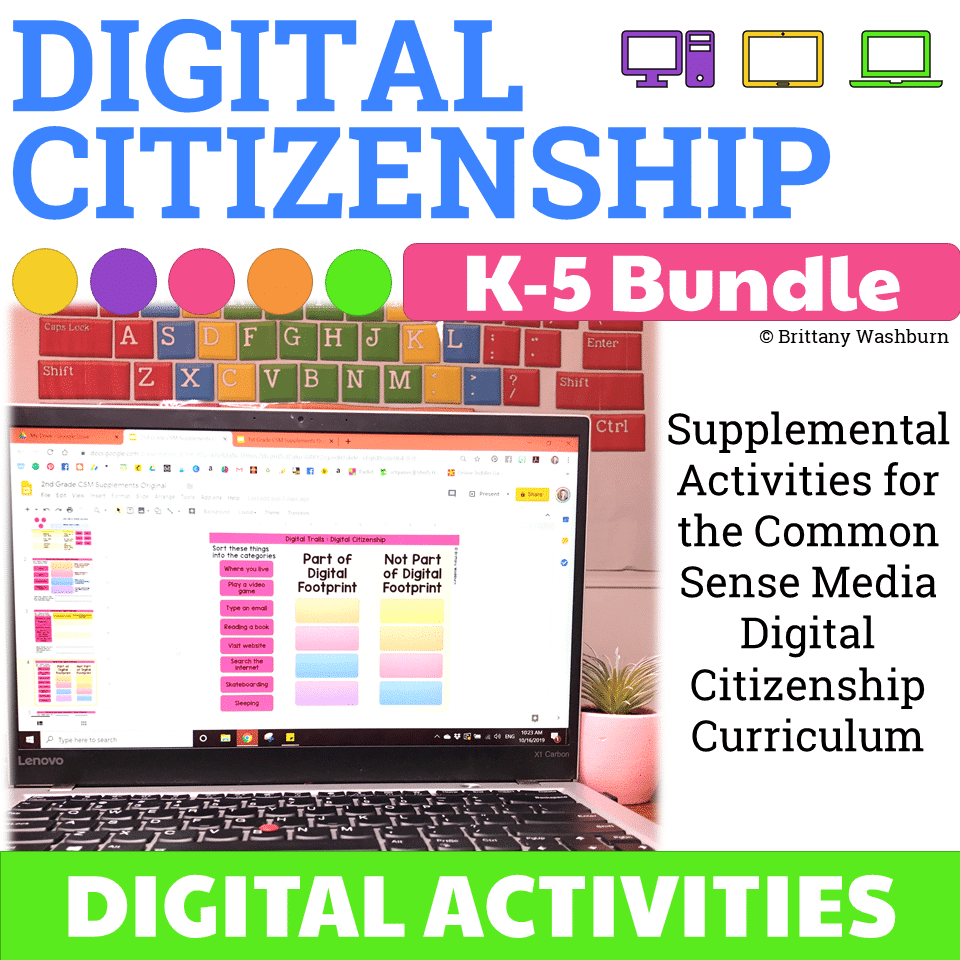 The Digital Citizenship Activities Bundle has digital activities to supplement the Common Sense Media Digital Citizenship Curriculum for grades K-5. These activities are designed to be completed after doing the full Common Sense Media lesson for each topic. Each grade level is in a separate google slides file to help keep just the right things at your fingertips.
Digital Citizenship eBooks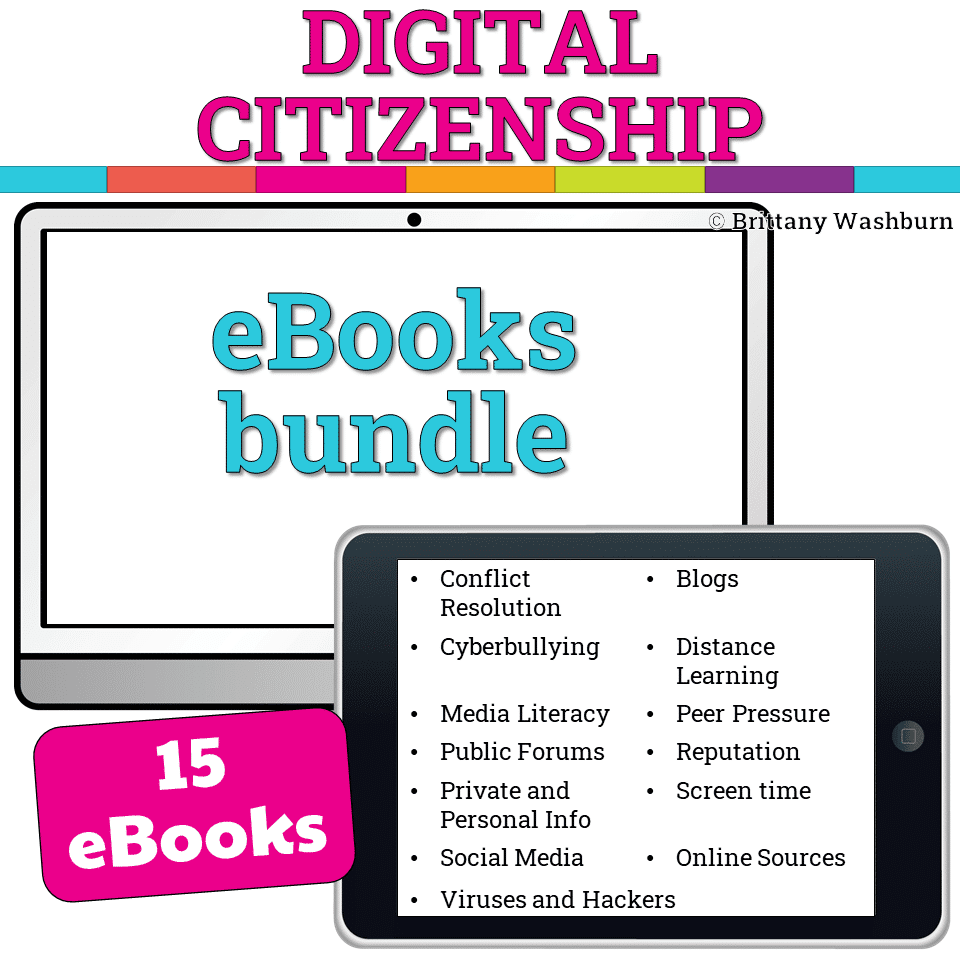 Introduce lessons on Digital Citizenship with the eBooks in this Digital Citizenship Booklets Bundle that goes over 15 different internet safety topics.
In each file you'll find:
Instructions for printing – if you want physical copies of the eBooks
Comprehension questions (2 to a page and full-page options)
Vocabulary for this eBook
Higher order thinking questions to ask after reading
3 graphic organizers to use with the text (provided in both PDF for printing and as PNG files that can be loaded into Seesaw or Google Slides for students to type their answers)
2 Levels of the PDF eBook. Level 1 is simpler to understand for younger students, while level 2 includes more details and higher level vocabulary for upper elementary or middle school students.
The PDF is designed to be used like an eBook, so you can project it onto your whiteboard and/or share it as a PDF in your learning management system for students to read through independently. You may want to read aloud the level 1 version to younger students due to the technical terminology however.
Ways to Use these Booklets:
Whole-group introduction to this topic or a related lesson.
Wrap-up activity when you have a few extra minutes.
Full lesson with the book, vocabulary cards, graphic organizers, and questions.
Back up plan for days that the internet doesn't cooperate.
Sub plans.
Review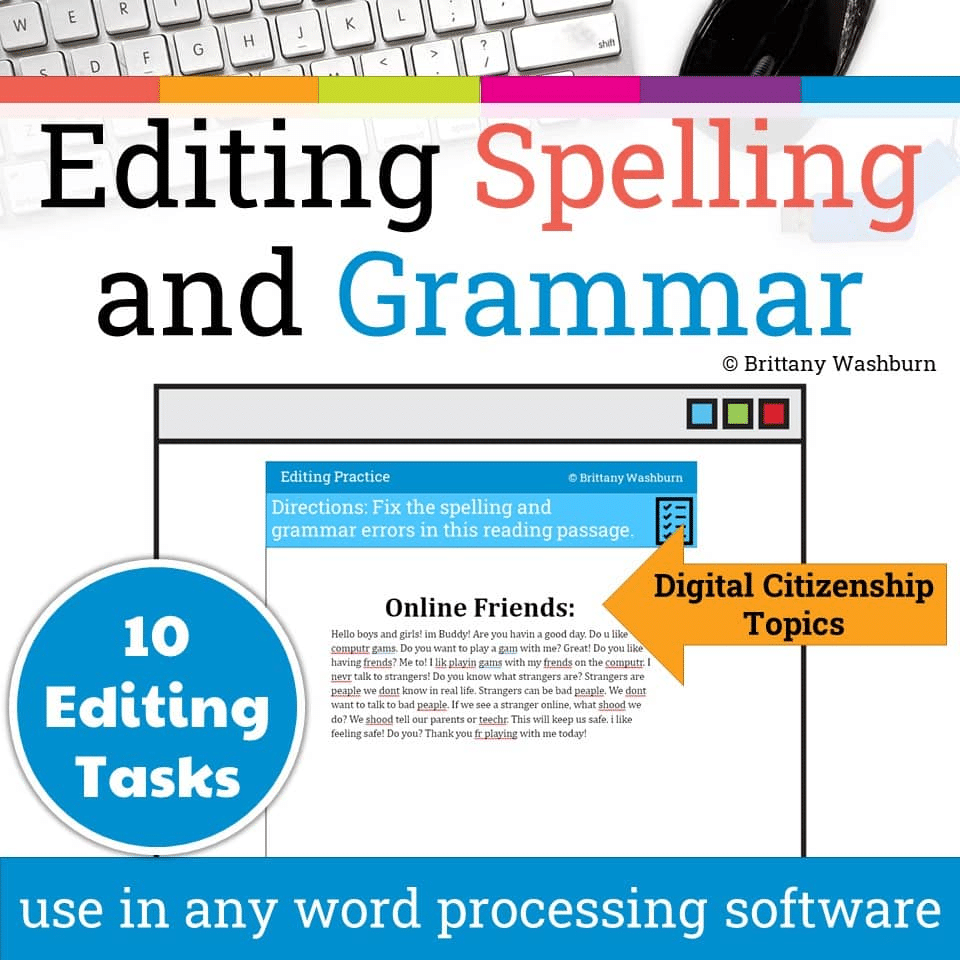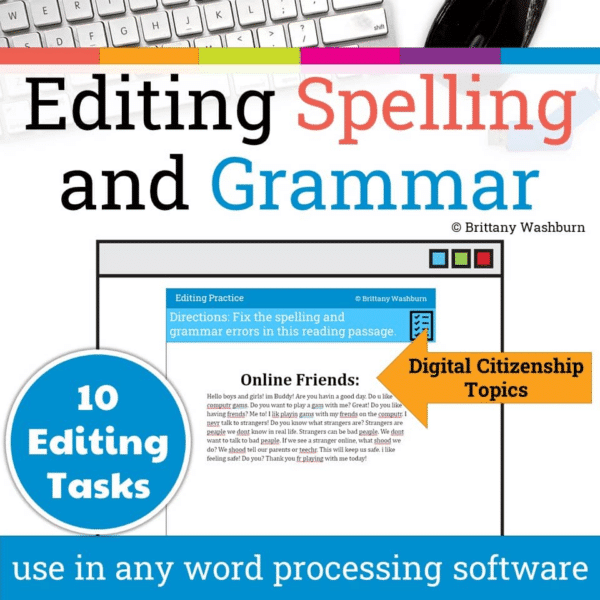 Do your students have the basics down regarding internet safety and just need a refresher? Use the Editing Spelling and Grammar with Digital Citizenship Text or Typing Paragraphs Advanced Keyboarding Activity. They can work on their always important word processing, typing and editing skills while the text they are working on reminds them of all the digital citizenship skills they've learned.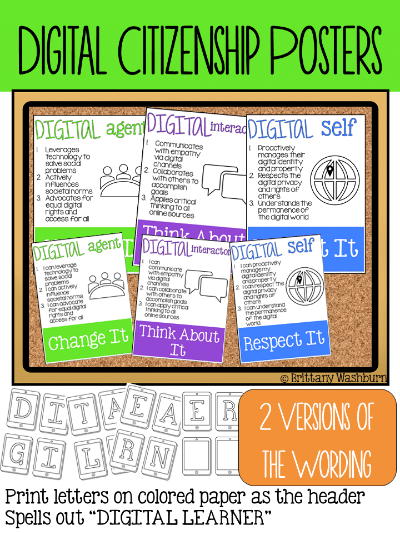 This Digital Citizenship Posters Freebie has 3 Digital Citizenship posters with 2 versions of the wording and bulletin board header letters. Help your students take accountability for being good digital citizens with a bulletin board you could leave up all year!
We hope these ideas to teach and review internet safety and other digital citizenship topics help you equip your students to explore and use the internet with confidence.