Using Digital Glyphs to Introduce Graphic Design
Using digital glyphs in your computer lab or classroom will let students of all ages practice their tech and graphic design skills. Nearly any topic or theme can be used, which makes this activity great for any time of year!
What are Digital Glyphs?
While students may be familiar with paper and pencil glyph activities, it takes it to a whole new level to do it digitally. Digital Glyphs work on so many great technology skills!  In each themed activity, students will work across multiple slides in either Google Slides or PowerPoint while completing an engaging get-to-know-you activity.
Paper glyph activities are a popular "get to know you" activity for the beginning of the school year. Students color or fill something based on their answers to questions.
Example: Draw a hat on your character if you like playing outside or draw a scarf if you like playing inside. At a glance, you can learn about a student based on their final design.
A digital glyph is the same concept but copying and pasting design elements instead of drawing on paper!
You'll be able to learn about your students based on their final designs.
It also makes great tech skills practice!
Here are some of the tech skills students will practice in these activities:
Copy and paste between slides
Resize clip art pieces and shapes
Layer pieces and shapes
Group pieces and shapes
Save their finished work as an image file with a screen snipping tool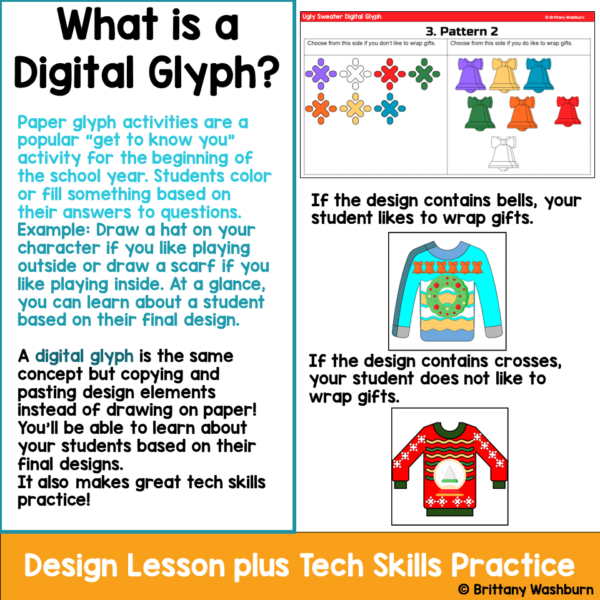 How Can I Use This Resource in My Class?
Using digital glyphs in your classroom will be a colorful and festive way to still practice technology skills even if student concentration is limited. They're fantastic when you need to fill a short lesson period, grab attention back from students about to go on (or recently returned) from a school break, or want to focus on building classroom community.
My glyph activities are ideal for 2nd-5th grade.
Digital glyph activities are also perfect for morning work, stations, early finishers, homework, or as an opportunity for students to work independently while you get other work done.
How Digital Glyphs can be used to Introduce Graphic Design to Elementary Students:
Aside from the basic tech skills students practice, digital glyphs make a great introduction to graphic design concepts. Discussing how students might choose to size and layer the shapes to make the scene look more realistic is always eye opening for them. You'll quickly see who has a knack for it!
This is also a great opportunity to talk about colors that look good together, which will make future presentations more eye-appealing.
The creative communicator standard is addressed as students consider what their audience might like to see in the final design and how the student might portray a message with their work.
ISTE Standards for Students – 1.6.d: Students publish or present content that customizes the message and medium for their intended audiences.
Teacher Prep for each Digital Glyph Set:
Take a look at the column headers for each sub-section of the glyph project and determine if you want to change any of the text. You can easily alter or enhance the get-to-know-you prompts included in the activity before you begin.
Arrange how you want to share the file with your students. I provide the Google Slides file link but you can also use it as a PowerPoint file.
Target how you want students to practice copy and paste (keyboard shortcut or right-click menu) and go over the corresponding slide to review it together.
Plan to show students how to save the final scene as an image file using whatever screenshot or screen clipping tool your devices have.
Finally, decide whether or not you want students to do the writing extension about their scene at the end. Do you additionally want to give students requirements for the writing length or content?
What Standards & Skills Do Digital Glyphs Address?
Skills Addressed:
Navigating to the file
Navigating between slides in a Google Slides or PowerPoint file
Copy and paste pieces between slides
Resize pieces
Layer pieces
Group pieces
Save finished scene as an image file
Standards Addressed:
Strand: Innovative Designer
Standard: 4.b. select and use digital tools to plan and manage a design process that considers design constraints and calculated risks.
I Can Statements:
I can use keyboard shortcuts to copy and paste
I can resize, arrange, and layer pieces in a presentation program
I can create visual representations of the solution to a problem
I can stick with a problem until it is solved
I can use the materials around me to help me solve a problem
I can create an original work using a digital tool
Bundles
You can grab the Full Year Bundle, including 19 glyph scenes, to set yourself up to use digital glyphs in your classroom for all the seasons, major holidays and more.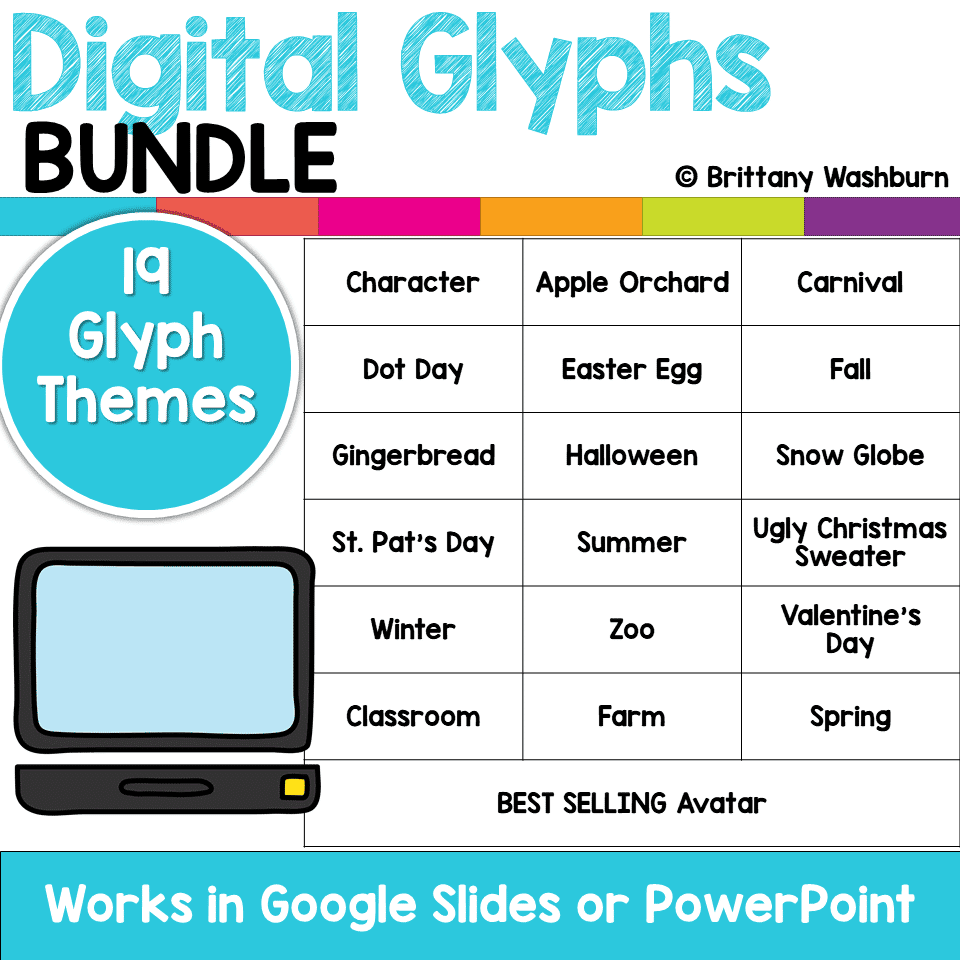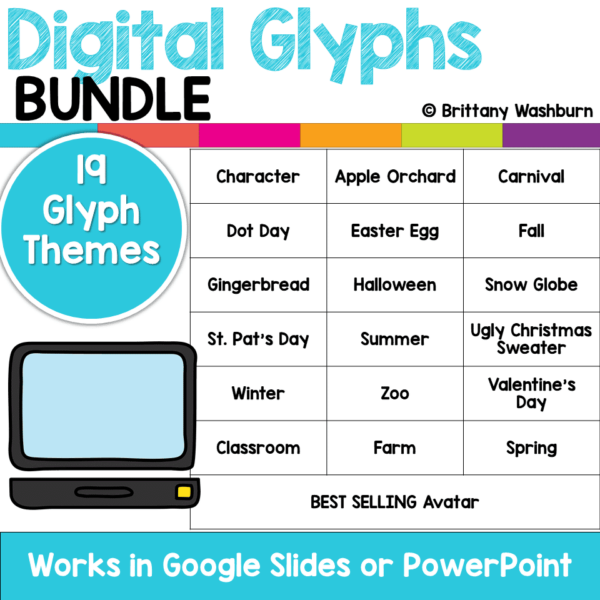 Some of the digital glyph activities have a direct counterpart in my digital stop motion animation projects, so I have also bundled them together for Avatar Character, Snow Globe and Ugly Sweater. The included animation project can step things up for your upper elementary and middle school students. Alternatively, you can have students do the digital glyph one year and then the digital animation next year. The animation projects entail the following:
Stop Motion, typically done with physical objects and a camera, is a little bit different here. Instead of getting out all of those materials, we do it digitally!
Using Google Slides, students will animate a story across multiple slides. The 3 prompts are editable so it can be made more (or less) complicated to meet your needs.
Students can do this with a single device or in groups across 3-5 devices.
The graphics are provided for students, and they can add their own if needed as well.
Anxious about Google Slides or Google Classroom?
The free Google Slides Vocabulary Poster makes a great mini lesson to introduce your students to Google Slides for the first time.
Using Google Classroom makes it really easy, but you can use any learning management to send the file to students. Hop on whatever platform you are most comfortable with!
Get Started!
Browse through all my Digital Glyphs and choose the one you want to get your class working on next. Using digital glyphs in your classroom will be a great addition to your repertoire!