Interactive PDF Games Tips and Tricks
Digital interactive PDF activities and games are a fantastic resource for any classroom. PDFs work on any device, so interactive PDF's are great no matter what tech you have available. Many printable resources you find these days now include an Interactive PDF to accommodate virtual learning. Let's take a look at how they can work for your classroom!
What are Interactive PDF's?
Interactive PDFs are easy to use and let students practice their tech skills from any device! Simply open an interactive PDF in any PDF reader, such as Adobe Reader, Lumin PDF, etc. and start using the interactive features.
Instruct students to click on their answers. The activity is designed to give immediate feedback by moving forward if the answer is correct and going back if the answer is incorrect. Students just keep going until they have completed the activity!
Interactive PDF's To Try Out
My Interactive PDF's category has a variety of themed games to allow computer science teachers to give their students some extra practice studying computer icons, keyboard shortcuts and computer parts.
If you'd like to try one for free to make sure your students have the right program to use an interactive PDF, sign up for my free resource library and then look for this one: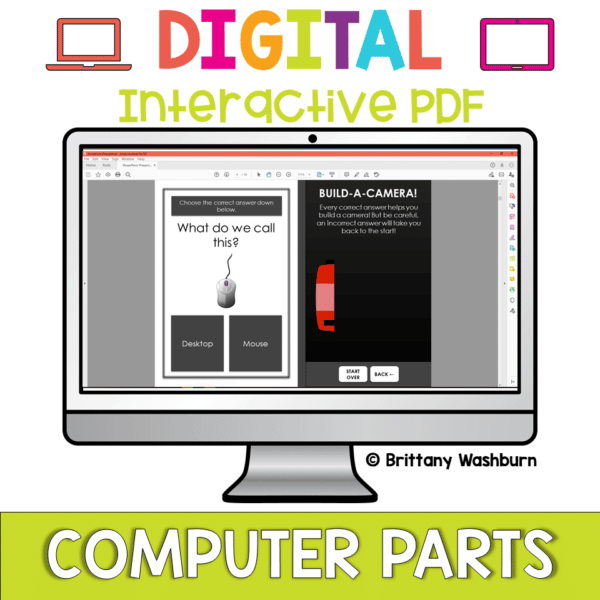 Tips for Teachers
Interactive (clickable) PDFs need to be opened in a PDF reader. The Google Drive PDF previewer is an example of what won't work! Force Google Drive to open the file with a full PDF program (Chrome browser) by downloading the file to the device you want to use it on and then opening it with the browser. Programs like Adobe Acrobat, Lumin PDF, or the Google Chrome PDF viewer will all work for these activities.
The next step is to decide how you're going to share the PDF with your students.
The most efficient way in a physical classroom setting is to add the PDF to each computer or device and make a desktop shortcut that opens the PDF. If you need ideas for ways to share digital files with students, I have this blog post with 15 ways to share.
You can assign an interactive PDF on Google Classroom, send it as an attachment to an email, share it in Microsoft Teams, or any other way you usually share PDF files with your students.
Google Classroom Assignment Steps:
Create Assignment.
Add instructions for your students now if you wish.
You'll most likely want to switch your point value to "Ungraded", and make the assignment have "No due date".
Assign a Topic for the game to be posted under.
Now add the file.

Choose File or Google Drive and upload.
Select "Students can view file". They do not need to make their own copies or be able to edit the file.

Go ahead and press Assign!
When students open the file, it will very likely open in Google Drive instead of Google Chrome. Have students download the PDF from their Google Drive and then open the PDF in Google Chrome for it to be interactive. Maybe someday Google Drive will add the interactive functionality.
Think about how you're going to monitor student progress. The games don't save individual progress, so I recommend having students practice to mastery. They can retry any activity until they get it completely right. How long these activities will take students depends on the individual student. Some will breeze through the content while others may take several tries.
You can download the file to a device (computer, iPad, etc.) and play in "fullscreen" mode. This is great for our youngest students, like PreK and Kindergarten. Fullscreen mode makes it hard to accidentally close or click out of the activity.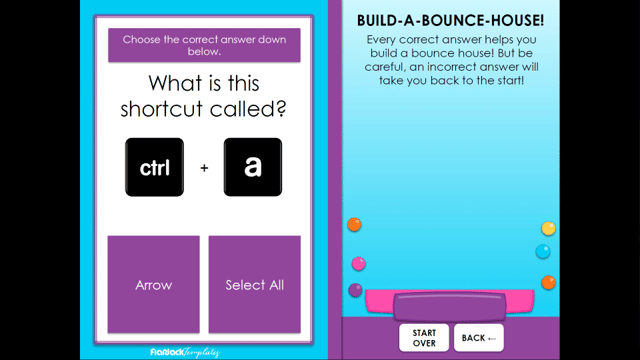 Parents love interactive PDF's as homework! Since they are self checking, parents don't have to know the answers they just have to monitor their child's results. For the same reason, they also work very well for stations, warm-ups or as a choice for early finishers.