Warm Up Activities for the Computer Lab
I LOVE Literacy so it is no surprise that I use books as a warm up activity for almost every technology lesson. Both print and digital books (and even audiobooks) can be used, and reading to my classes is a way to connect with my students. The discussions that come from it are amazing and make me feel like I'm building community even in just 45 minutes once a week.
There are amazing Technology Themed Children's Books available. I compiled my favorites into a spreadsheet. You can make a copy of it here.
For the past year I've been hard at work putting together over 80 eBooks on technology topics. I thought I knew a lot about technology until I started researching to be able to write these books! I have learned so much and it really fuels my desire to teach others. I think students are going to love being introduced to topics with these eBooks.
Here are the ones I have done so far:
Computer Basics eBooks
Parts of a Computer
Computers
The Internet
Web Pages
Operating Systems
How a Mouse Works
Using a Mouse or Trackpad
Using a Keyboard
History of Computers
Inputs and Outputs
Parts Inside a Computer
Taking Care of a Computer
Email
File Storage
The Computers basics booklets can be use any time of year to introduce these technology topics.
Conflict Resolution
Cyberbullying
Media Literacy
Public Forums
Private and Personal Information
Social Media
Viruses and Hackers
Blogs
Distance Learning (freebie)
Peer Pressure
Online Reputation
Screen time
Online Sources
These digital citizenship booklets make great discussion starters. Read them whole group to introduce students to the terminology that they'll be using in your internet safety unit.
Search Engines
Search Results
Ads in Search (and Advanced search techniques)
Reading a Web Page
Evaluating a Web Page
Copyright
Taking Notes
Citing Sources
Avoiding Plagiarism
Read the Online Research Skills eBooks to your classes to introduce the terminology they'll be using for research projects.
People Important to Technology eBooks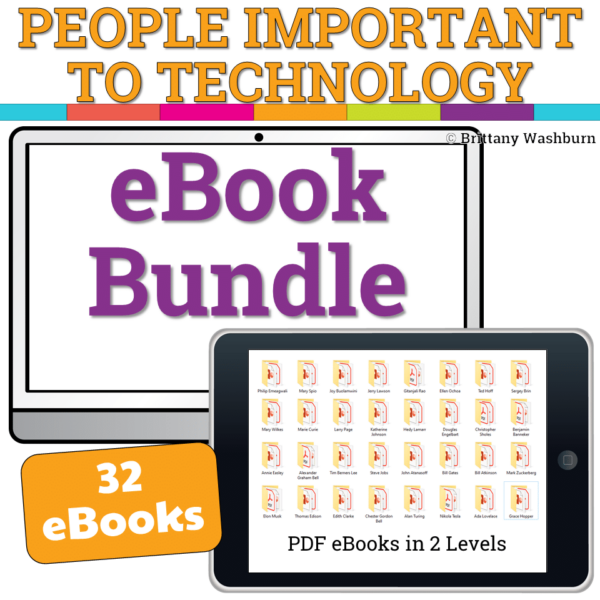 Ada Lovelace
Alan Turing
Alexander Graham Bell
Annie Easley
Benjamin Banneker
Bill Atkinson
Bill Gates
Chester Gordon Bell
Christopher Sholes
Douglas Engelbard
Edith Clarke
Ellen Ochoa
Elon Musk
Gitanjali Rao
Grace Hopper (freebie)
Hedy Lamarr
Jerry Lawson
John Atanasoff
Joy Buolamwini
Katherine Johnson
Larry Page
Marie Curie
Mark Zuckerberg
Mary Spio
Mary Wilkes
Nikola Tesla
Philip Emeagwali
Sergey Brin
Steve Jobs
Ted Hoff
Thomas Edison
Tim Berners Lee
Phew that is a lot of people important to technology! These eBooks make a great introduction to a unit on Technology Careers. Students can even use the Booklets to research a person and then create a research report or presentation on the information.
Audio files
File Sizes
Fonts
Image Files
Multimedia
Software Basics
Presentation Software
Word Processing Software
Spreadsheet Software
Algorithms
Bugs and Debugging
Decomposing
Events and Conditions
Loops
Programs
Sequencing
Values and Variables
Coming soon is a series on Creativity with Technology!
Pin this post to get back to later: