The Best STEM Challenge EVER
The Best STEM Challenge for Grades 3-8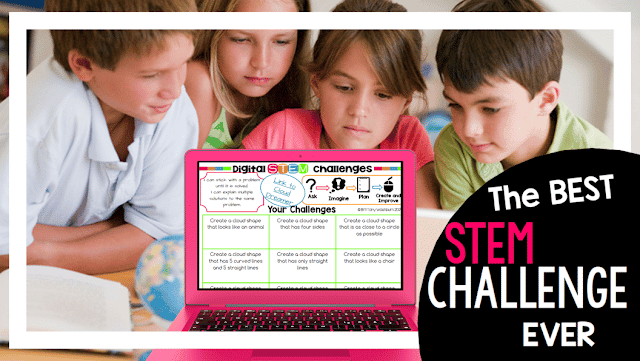 Improve student Learning with a STEM Challenge
STEM goes digital with these fun and engaging design challenges.
We all want our students to master technology tools and use them to create
original works. Digital STEM challenges are designed to allow students to
explore digital tools while creating something using the steps of the
engineering design process. The best part is that nearly every topic and
subject area can be incorporated into these challenges, so they can be used as
a part of your daily academic activities, not as an extra thing to fit into
your schedule. 
There
are 10 technology tools used in this resource. If you're a traditional STEM
teacher, think of each tech tool as a "material" for building such as
Popsicle
 sticks or construction paper.
Each tool has a page in this PDF
that describes it for the teacher. I encourage my students to explore the tech
tool as they complete the challenges, so I do not do any formal instruction
about how to use the tool. This leads to each activity being even more open ended and requires problem solving and higher order thinking skills. It makes my teacher heart warm and fuzzy!
Each
challenge card includes
• I Can statements based on the ISTE
Standards for students
• The steps of the design process
• A link to the tech tool
• 9 editable challenge prompts
You
could have students complete one, many, or all of the challenges on the page.
They are editable so feel free to change them to meet your needs before sharing
the file with your students. Also included in the file is the digital journal
to complete along with the challenges. I have my students duplicate the blank
template slide before they start on their challenge.
When students are finished

:
•Create a class eBook in Google Slides
where students each get one slide to insert their final product.
•Create a Padlet and have students upload
their final product.
•Have a "gallery walk" where students have
their final product up on their screen while they walk around to see
classmates' creations.
•Have students present their final product
to the class
Why Students LOVE this STEM Challenge
Students love these STEM challenges because they are so much fun. The open ended challenge prompts mean that they have full creative license to complete the challenge their way. My students love any opportunity to try out a new technology tool, and this resource introduces them to 10 new ones. Once we had completed all 10 challenges, we used the technology tools again throughout the school year for different projects and my students just got better and better with each tool. They were really inspired to see how far they could take their skill with each tech tool.
Here is some feedback from other teachers about how much their students enjoy these design challenges:
"
My kids love these!! They are motivated to get their work done during the week, so that they can have STEM time on Friday!"
"
My kids in class loved them so much that I used them with my after school class and they were just as absorbed."
"
My students have started begging to do another digital STEM Challenge!"
Why Teachers LOVE this STEM Challenge
Each program comes with an opportunity to learn something new and practice problem solving, but my students don't even know they are learning. The challenge prompts are editable, so teachers can design the activity around their current teaching topics. The prompts I wrote are great for grades 3-5, but this resource can really be used with any grade level.
There is no need to make this activity a separate thing to complete in the day, it can be your math, science, ELA, or social studies lesson with the right challenge prompts. They are also a great assessment tool if your school does project based learning or open ended assessments.
Here is some feedback I've received from a teacher who is using this resource:
"
WOW! This purchase just saved me! What an amazing resource that exposes students to digital tools in a meaningful way! Very thorough. This will get me through the end of the school year. Thank you :)"
Action Shots of the STEM Challenge
Watch this video walk through of the challenges
More Amazing STEM Challenges Your Students Will Love
More Amazing STEM Challenges Your Students Will LOVE
Click on any of the images below to read about more STEM challenges from other STEM educators.
| | | |
| --- | --- | --- |
| Digital STEM Challenges | Cargo Ship STEM | Animal Adaptations STEM |
| Roller Coaster STEM | STEM Space Lander | Paper Chain STEM |
| Sammie STEAM Challenge | Toothpick Tower STEM | Simple Machines Challenges |
Graphics and Font Credits: KG Fonts and PhotoClipz