Mastering Microsoft Office Programs Made Easy
Do you need your students to master Microsoft Word, PowerPoint, and Excel so that they can complete assignments efficiently? Here are lessons and projects that have everything your upper elementary students need to become pros at Microsoft Office Software. The activities will make a great addition to your technology curriculum!
Why Should My Students Master Microsoft Office Programs?
Whether or not your school runs on Windows devices, countless assignments require Microsoft Office to complete. Fluency in these basic computer skills are also likely to be useful in almost any workplace your student may eventually find themselves in. If you're a classroom teacher just starting your journey with having 1:1 devices (or something similar) or if this is the first time your group of students will be using Microsoft Office, these are a great way to get started for your students.
What Standards and Tech Skills are Supported?
Standards Addressed:
Strand: Empowered Learner

Standard: 1.c. Students use technology to demonstrate their learning in a variety of ways.
Bundles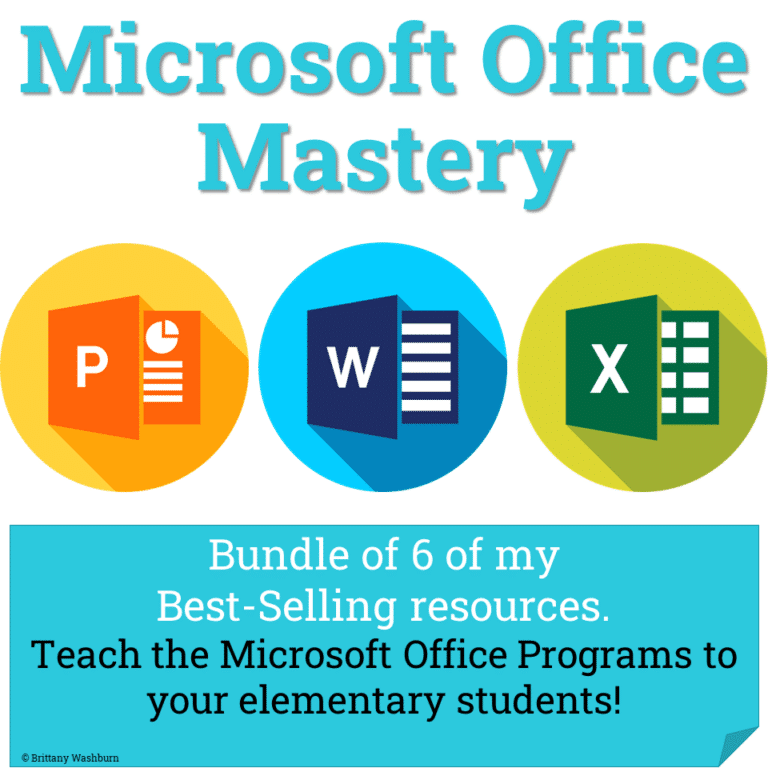 Master Microsoft Office Software Lessons Bundle
Products Included:
If you're looking for a whole year of Microsoft Office lessons, consider this other bundle.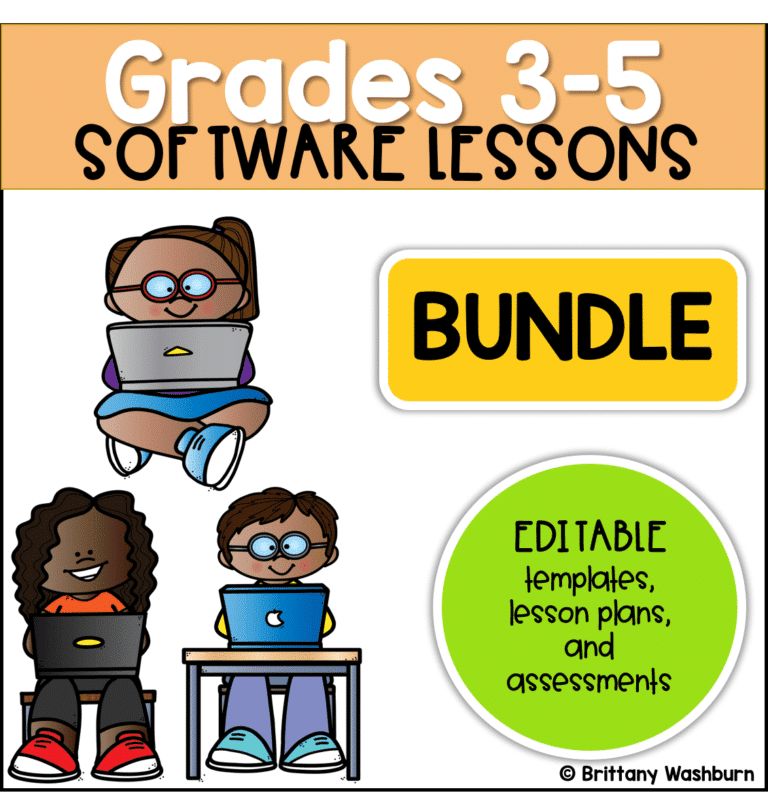 Software Lessons Bundle for Grades 3-5
Introductory Lessons To Try Out
Not sure you need all that? The following items are designed to give your students a crash course.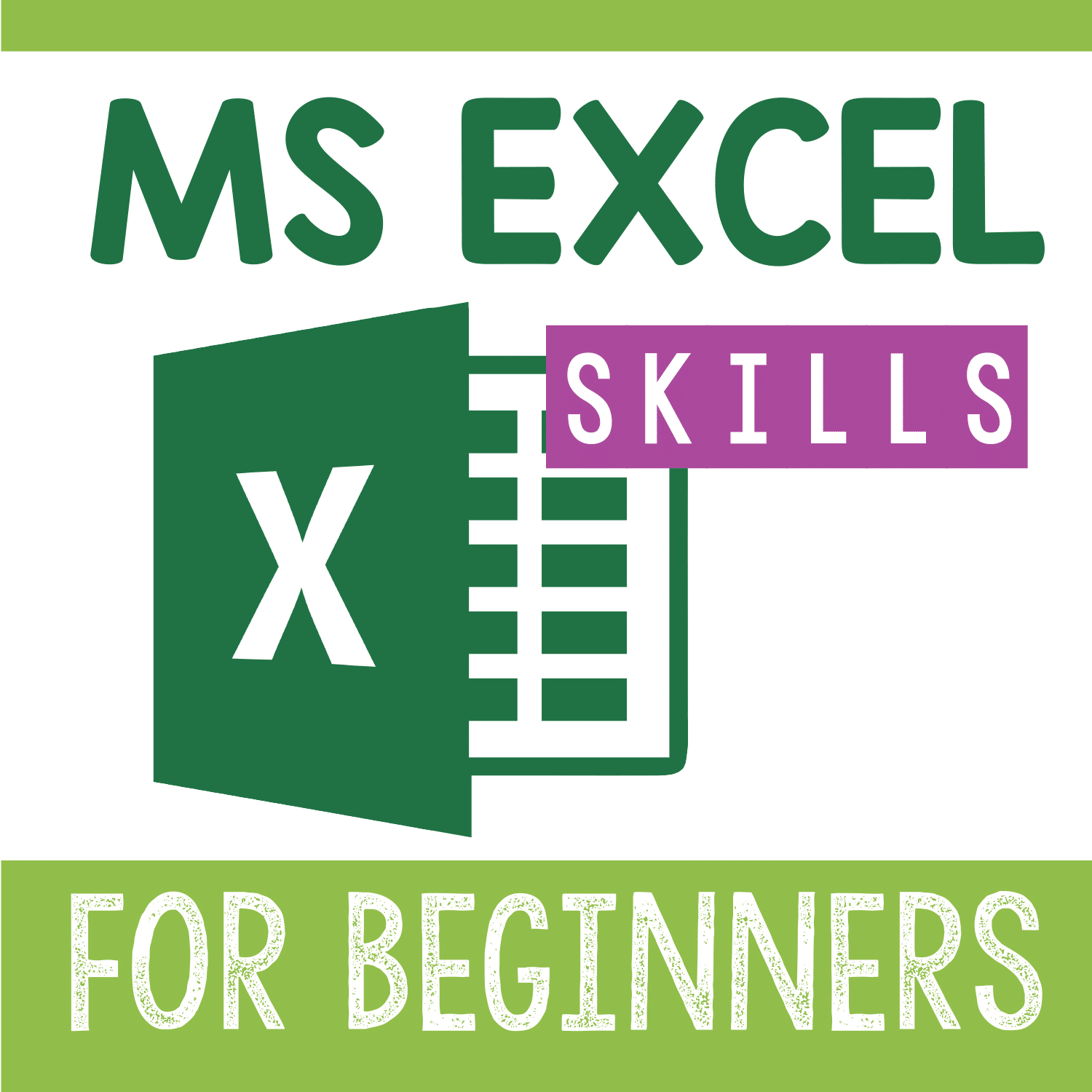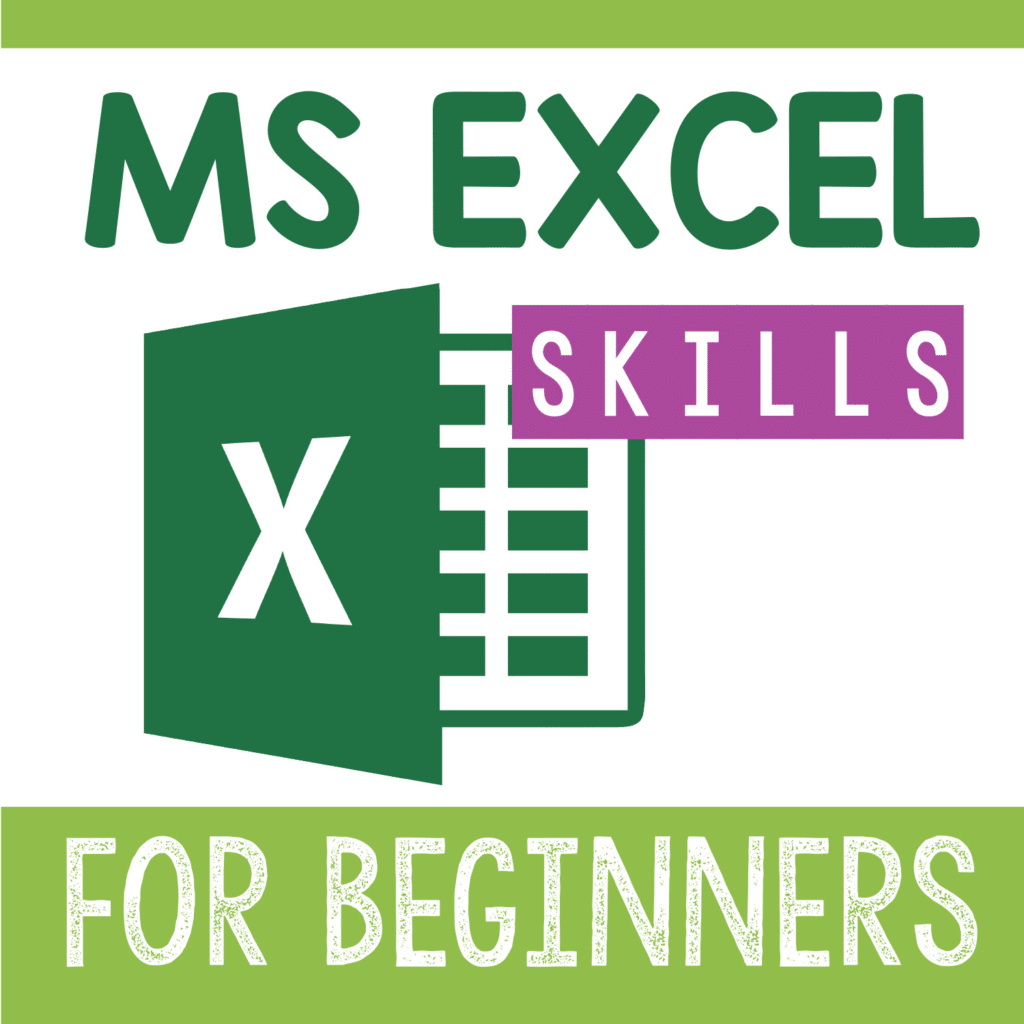 Excel Skills for Beginners. Do you need your students to master the basics of Microsoft Excel so that they can use it independently? This set of lessons will get them there. Each lesson includes an instructional video for the students and a template to practice each skill.
Skills included:
Filling in a chart
Making graphs
Working with cells
Formulas
Creating charts and graphs independently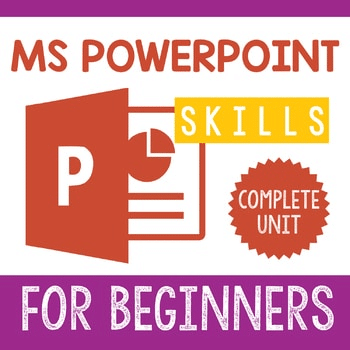 PowerPoint Skills Complete Unit
Designed for upper elementary/middle school students, (depending on background knowledge) this unit contains 14 instructional videos, 14 guided notes pages, and 14 activities for PPT skills that every student needs.
Skills included:
How to Save a File to your Network Folder
Changing the Font
Adding and Changing Pictures
Adding and Changing Tables
Adding and Changing Word Art
Numbering Pages, Footers, and Date
Citing Sources
Design Choices
Transitions and Animations
Editing Spelling and Grammar
Graphic Organizers
Adding Video Clips
Adding Narration
Printing a Presentation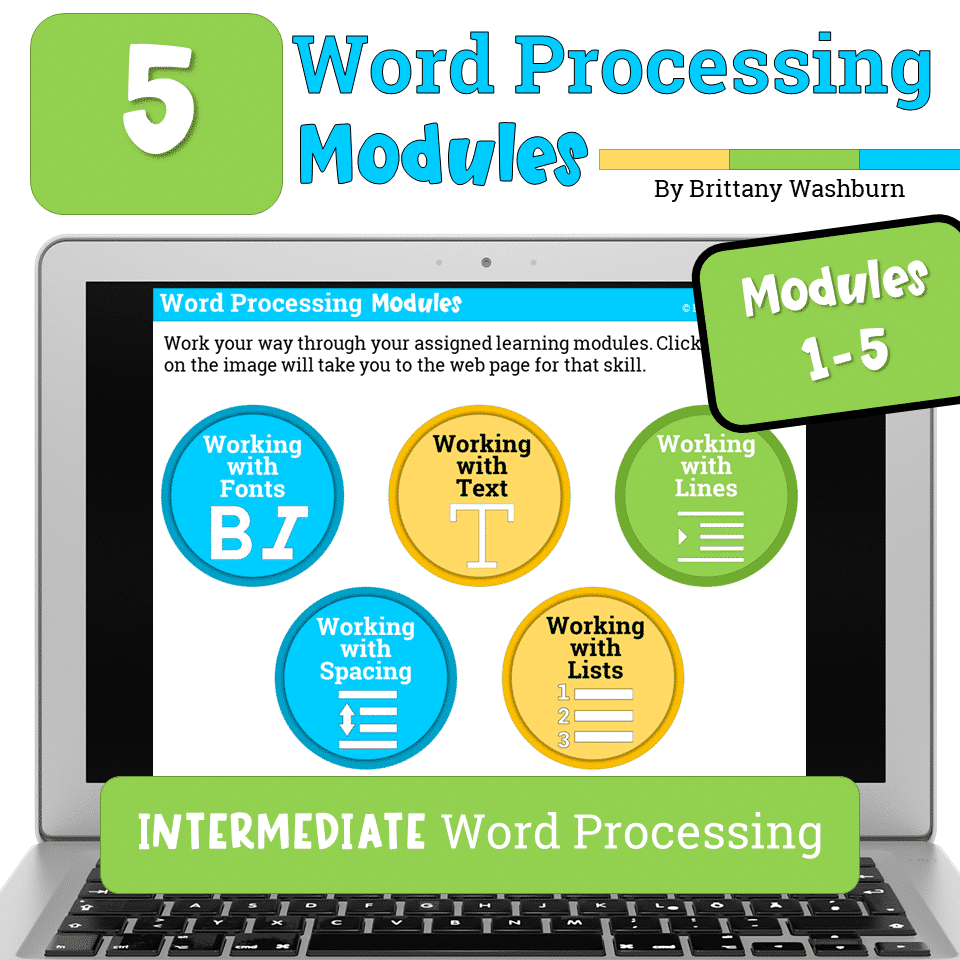 Most appropriate for students in grades 3-5 or students who have had an introduction to Word Processing. For each skill, there are 2 templates. 1 will open in MS Word, and 1 will open in Google Docs. These projects were made out of a desire to guide students to eventually work independently in software programs. They are design to build technology literacy through repetition and engaging project prompts.
Skills included:
Working with Fonts
Working with Text
Working with Lines (indents)
Working with Spacing
Working with Lists
Advanced Lesson Resources
Do your students have the basics down? Here are advanced lessons to take your students to the next level.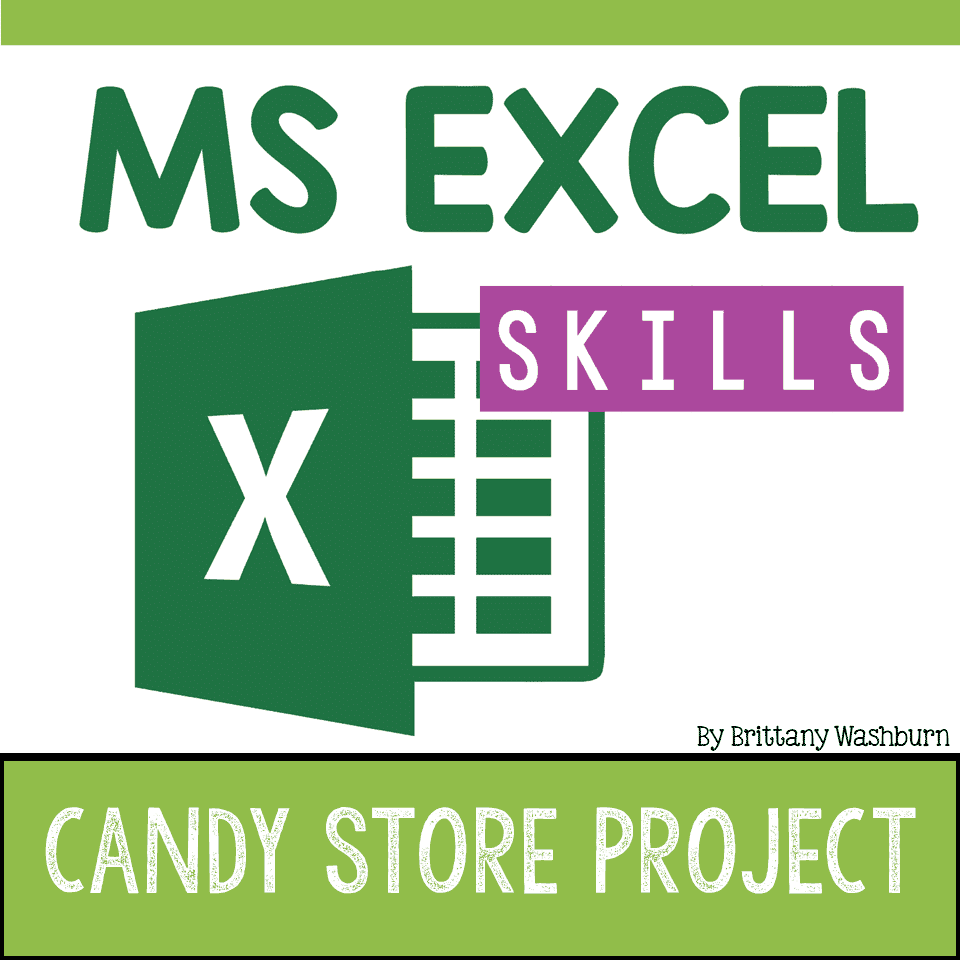 Excel Skills Project – Candy Store
An engaging project for students in which they act as Candy Store owners. They have to work with the candy bars sold data to find out which candy bars make the store the most money. Provided in a zipped file, this resource includes a 24 minute instructional video for the students, and a template for students to use to complete the activities for the project.
Skills included:
Functions and Formulas
Conditional Formatting
Sorting
Charts and Graphs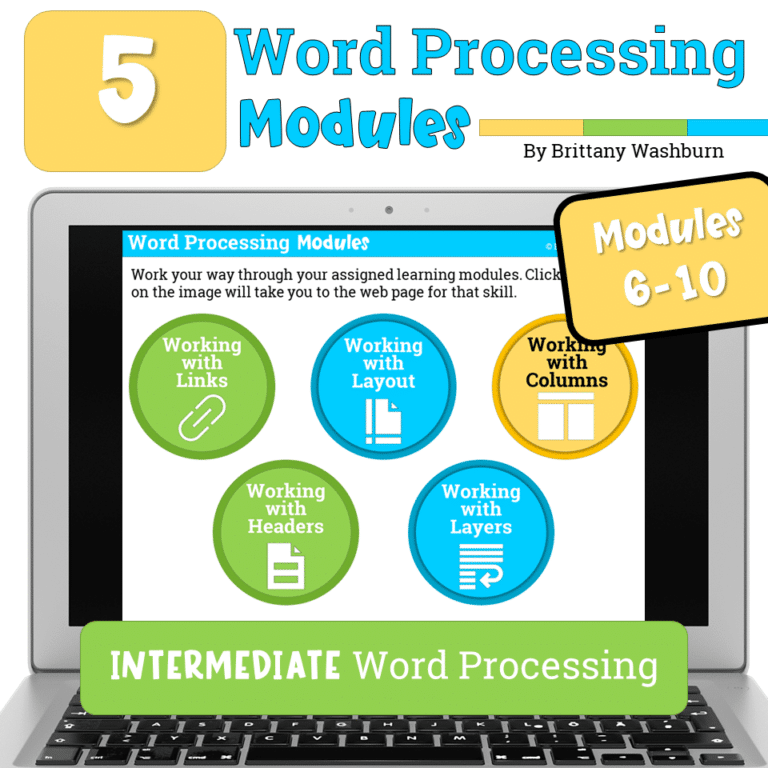 Skills included:
Working with Links
Working with Layout and Margins
Working with Columns
Working with Headers and Footers
Working with Layers (and text wrapping)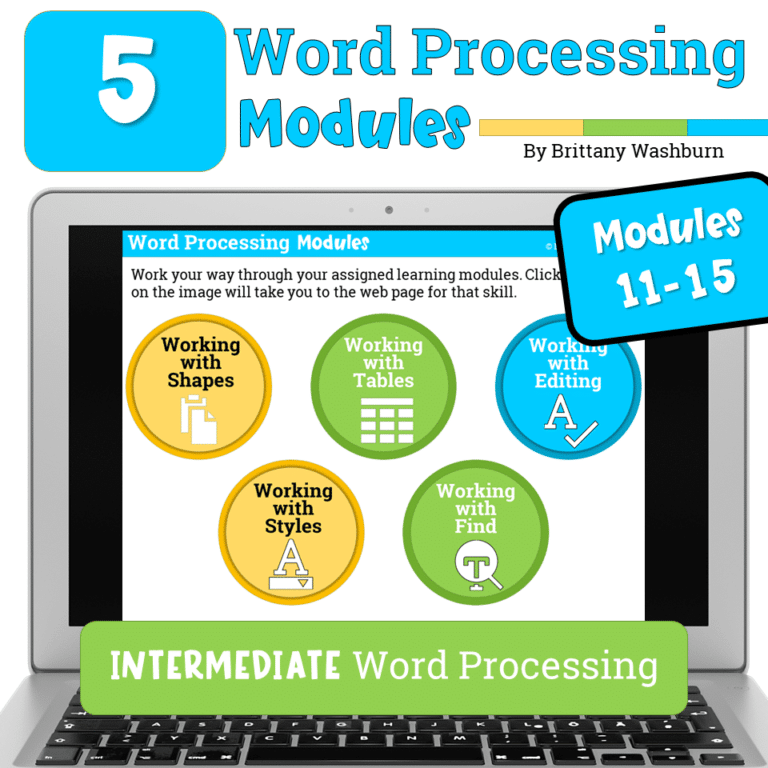 Skills included:
Working with Shapes
Working with Tables
Working with Editing (spell check)
Working with Styles
Working with Find and Replace
Tips for Teachers
Notes on the individual resources provide tips on how to access the corresponding instructional videos most easily.
All of the Excel and PowerPoint resources include templates, as well as sample answers for each guided notes and activity page.
Check out some other posts in the Software category:
Start your year off right with this Keyboarding Expectations Poster. Getting ready to give your…