Using Quick Tech in Your Kindergarten Classroom
Technology Integration is now easy! Quick Tech Activities for Kindergarten let Kindergarten teachers integrate technology without having to do any planning or prep.
What is Quick Tech?
With so many schools eliminating technology classes and placing the responsibility to integrate tech on the classroom teachers, I recognized that I could help make it easy!
Usually, I create resources for Technology Teachers to use in the computer lab with their grades K-5 students. I make large sets of activities so that there are options to use the same activity type across multiple grade levels, which works great in the computer lab. *If you're a tech teacher, you don't want Quick Tech, you want the full sets of each activity.
However, Quick Tech (this line of resources) includes selections of those great tech lessons and activities in bite-size pieces that can easily fit into the busy classroom schedule! Basically, I pulled apart larger resources and compiled them together in a way that makes sense for grade level teachers to use with their students.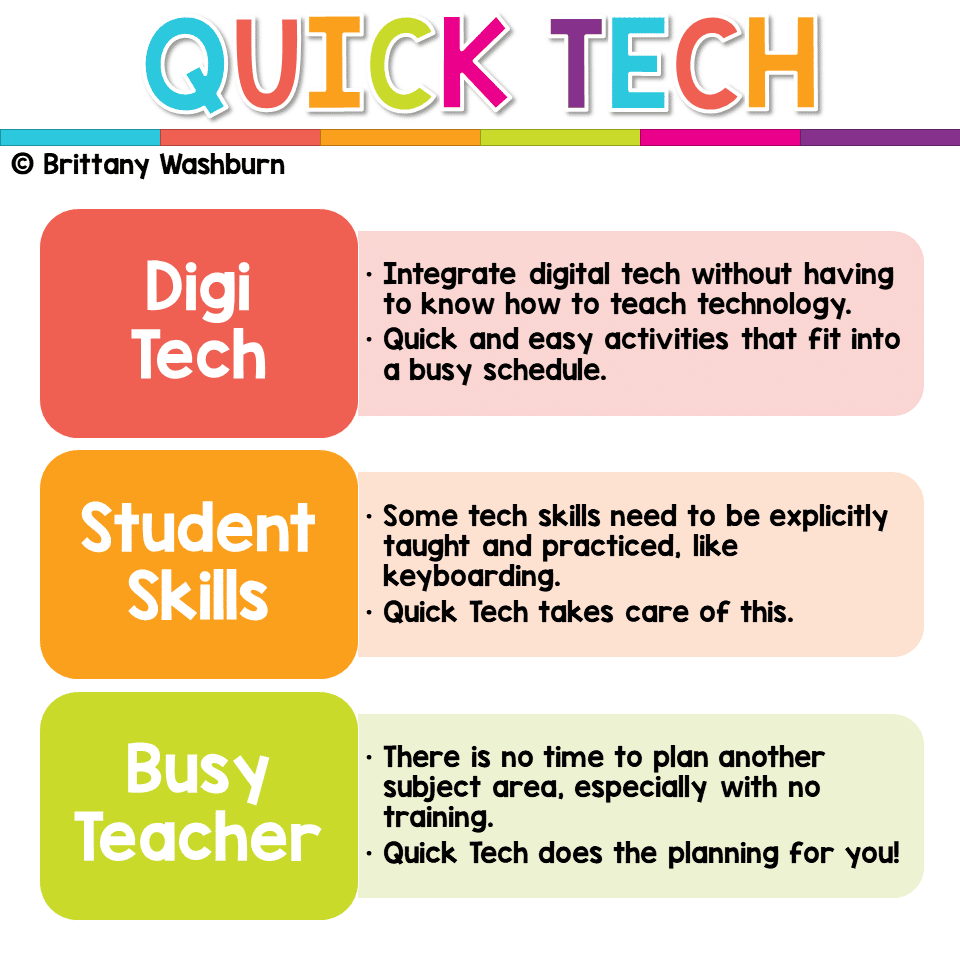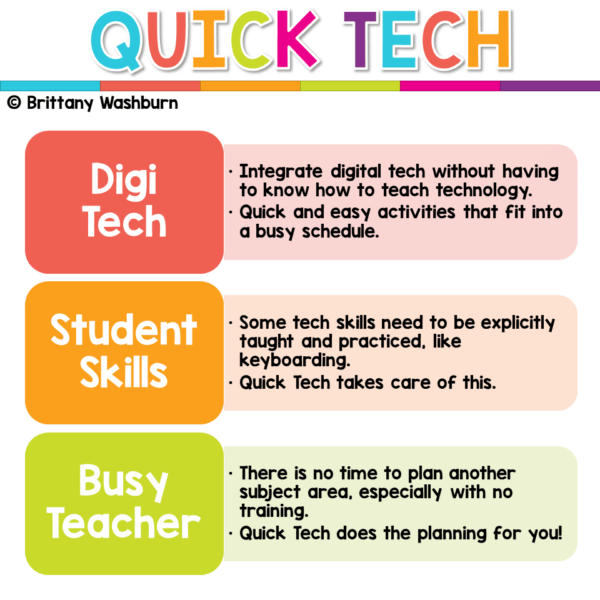 How Can I Use This Resource in My Class?
The Quick Tech sets are explicitly designed to reinforce tech skills throughout the school year without wasting precious instructional time. You can set them up as morning work, stations, or as a special "tech time" one day of the week. Some activities will need your guidance for pre-readers at first. There are also several activities that are simple or have video directions included though! They will work well right away as early finishers, homework, or even an opportunity for students to work independently while you get other work done.
Finally, if you want in-depth previews of any of the activities, you can easily take a peak at each of the full sets in my shop. I've pulled out 1-3 pages of each activity for the Quick Tech set. Looking at them will also give you an idea of any resources that you may be interested in having a full set of!
What Standards & Skills Does This Address?
You can help your students master tech with these quick printable and digital activities! The activities are all particularly ideal for kindergarten students in interest and complexity.
My kindergarten units include:
If you're expected to teach students about Digital Citizenship too, then I recommend grabbing this Kindergarten Digital Citizenship Activities set. This resource is not a Quick Tech set because it is already formatted for a kindergarten classroom.
Bundles
I bundled all the Kindergarten Quick Tech Activities into a convenient one-click solution to meet your tech integration needs.
I also have bundles for the Quick Tech Activities that I designed for 1st Grade, 2nd Grade, 3rd Grade, 4th Grade and 5th Grade if you know someone down the hall who might need them for a different grade.
Anxious about Google Slides or Google Classroom?
The free Google Slides Vocabulary Poster makes a great mini lesson to introduce your students to Google Slides for the first time.
Using Google Classroom makes it really easy, but you can use any learning management to send the file to students. Hop on whatever platform you are most comfortable with!
Get Started!
Browse through all my Quick Tech lessons and choose the one you want to get your class working on next.