TECHademics – Web Based Digital Math and ELA Activities for Primary Grades
TECHademics is a line of web based digital activities that aims to teach technology skills to our youngest learners while also working on academic content. Web based means that they work in any browser on any device! Nothing to download and no logins needed. It is the dream for distance learning and 1:1 classrooms. 
Watch this video for a quick overview of some of the included activities.
What makes TECHademics unique is:
•They work in any browser
•Students get immediate feedback
•They combine tech skills and academic content. As in mouse/trackpad and typing meets Math and ELA standards. It is awesome!
•EASY access for students 2 different ways
There are 2 options for getting students to the activities.
1. Add the PDF to each computer or device so that students can open it during their
tech station time. Students work through each activity on the TECHademics game
board.
2. Print and prep the QR code cube. Students can use a tablet or any device that can
capture a QR code to open a web page. Students work through each activity on
the cube.
The QR code option works great for iPads and Chromebooks. Students just scan and go!
The activities don't save individual progress, so I recommend having students practice to mastery. They can retry any activity until they get it completely right.
Here are some other activities from the Kindergarten series:
Sequencing with reading comprehension. This is one of the toughest kindergarten skills included.
Great click and drag practice with these activities. Students will master either the mouse or trackpad by the end. If you're using tablets, a stylus really helps for the click and drag activities, but a knuckle is great too!
Adding themes to sight word practice keeps it interesting for the students.
Here is an example of an activity that just requires a click of the mouse to select the right answer. Students will see a green check or red x right away so have them work until they see all green checks.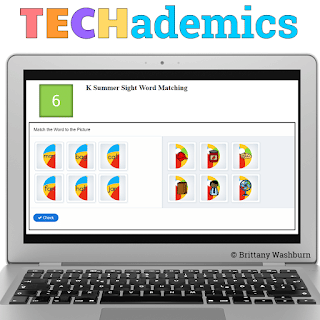 This is an example of a typing activity for kindergarten. There are only a few flashcards because this one will take them forever. The word on the card needs to be typed and then students click check to see how they did.
How long will these activities take students? The answer to this depends on the individual student. Some will breeze through the content while others may take several tries.