Technology Standards Display or Bulletin Board
Start your year off right with this bulletin board or display. All of the ISTE® Standards on stylish yet academic posters, with letters to use as a heading. Just print and set up! Click/tap on any of the pictures to go to listing and buy this bulletin board
On March 7, 2018, Shannon O. answered:
On February 27, 2018, Leslie Faett  answered: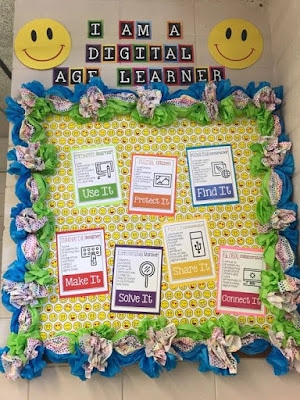 Who is this for?
Any teacher who uses the ISTE® standards and wants to display them for students to see (and to have a super colorful and cute bulletin board)
What is included?
• All 7 ISTE® Standards for Students represented in Poster format
• 2 wording options on the posters so you can choose which you want to display
• Both black and white and color letters that spell out "I am a digital learner" or "we are digital age learners" to use as a header for the display.
This set is designed to meet the needs of grades K-8. The colors are timeless and bright so you can use them with any grade level and they will be perfectly appropriate.
Why you need this in your life:
With all of the current style trends out there, why not go with a colorful classic that is sure to be in style for years? It will save you time
and money down the road when you don't have to redecorate your classroom just because a color or trend went out of style. Print and laminate once and you're good to go!