3 Ways to Teach and Review Online Research Skills
Countless school projects, from every subject, require online research skills to accomplish. Yet, this foundational skill does not come to our students through osmosis. We have 3 ways to teach and review online research skills here to get them on the right track. By completing some of these lessons, students will be ready to dig into online research confidently!
What are Online Research Skills?
Teaching your students Online Research Skills means helping students learn strategies to find the right information and how to avoid plagiarism.
Standards Addressed with Research Skills
ISTE Standards:
Strand: Creative Communicator
Standard: 6.b. create original works or responsibly repurpose or remix digital resources into new creations.
I Can Statements:

I can use parts of other works to create a new original work
I can explain how to use other works in a way that does not infringe on copyright and intellectual property rules
Strand: Knowledge Constructor
Standard: 3.b. evaluate the accuracy, perspective, credibility and relevance of information, media, data or other resources
I Can Statements:

I can evaluate whether or not I want to trust the information I find on a website when doing research
I can find the author of an article on a web page
Strand: Empowered Learner
Standard: 1. c. use technology to seek feedback that informs and improves their practice and to demonstrate their learning in a variety of ways.
I Can Statements:

I can search efficiently and find what I am looking for
Vocabulary to Introduce:
Search Engines
Evaluate
Information
Advertisement
Plagiarism
Copyright
9 Digital Breakouts for the Online Research Skills topics most relevant to upper elementary and middle school students.
Each Individual Resource Includes:
There are 6 codes to find and they require a mix of technology skills, so this makes a great partner or small group activity.
Students learn about and practice making decisions about the different Online Research Skills, which are:
Search Engines
Advanced Search
Ads in Search Results
Web Pages
Which Results to Choose- Judging Online Information
Evaluate a Web Page
Taking Notes
Copyright Rules
Citing Sources – Avoiding Plagiarism
Something that makes these digital breakouts unique is that they also include a reading passage on the topic, making it very relevant to today's students. Each Reading passage includes 4-6 vocabulary words on the topic.
Tips for Teachers:
If this is your first digital breakout then I recommend solving the puzzles as a whole group activity.
With this resource you will receive a link to a Google Slides file. From there you can share your copy of the Slides file with your students, or download it as a PowerPoint file to share that way.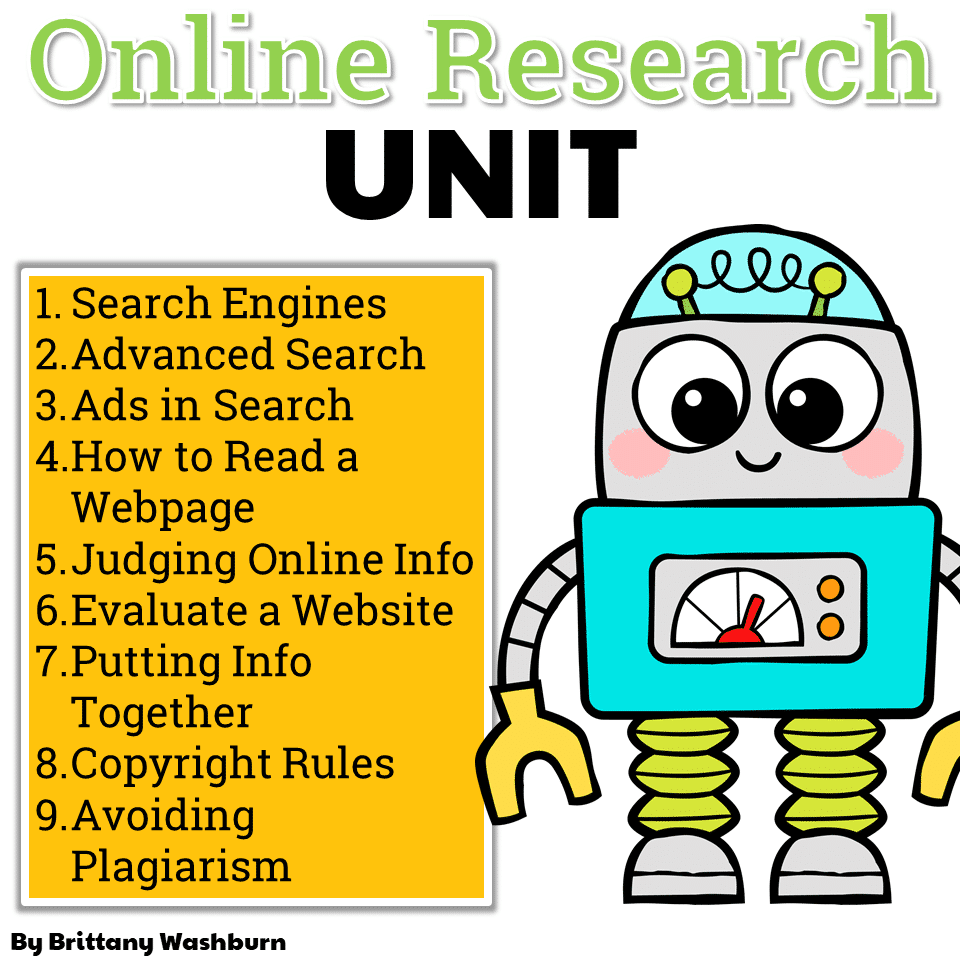 This complete unit has 9 reading passages, vocab cards, a multiple choice assessment, and 36 digital activity slides for online research topics. It is ideal for computer lab teachers to use during tech class as you can choose which topics to complete with each grade level.
Contents:
Reading Passages – either project onto a screen for the class to see or print them and hand them out. There is one reading passage per topic.
Vocabulary Cards – use to help students develop a broader understanding of the topics.
Printable Assessment – use as a pre and post assessment of student understanding
Link to Digital Activities
Link to Answer Key
How to Use – ideas for teacher
Online Research Skills Topics Included:
Search Engines
Advanced Search
Ads in Search
How to Read a Webpage
Judging Online Info
Evaluate a Website
Putting Info Together
Copyright Rules
Avoiding Plagiarism
Teachers looking to integrate technology skills and content areas with love this review of PowerPoint/Google Slides skills for students with the topic of Photosynthesis. While this is a simple research project, the real goal of this activity is for students to put their notes into a Presentation template (using either Google Slides or PowerPoint) and make it look professional.
The template guides students to:
Answer questions about the topic using an online informational text (website link provided) and graphic organizer
Insert clip art
Edit text boxes
Change the design including theme, transitions, and animations
Add bibliography text
Tips for Teachers:
The note taking graphic organizer and presentation template is editable if you need to change the requirements for your students.
The teacher guide file includes a rubric that you can use to grade their presentation for both the tech skills and the delivered presentation if you have them perform it for the class.
Students should already be familiar with the presentation program (either Google Slides or PowerPoint) that you want them to use. Otherwise, plan a demo of the skills they will need because this resource doesn't include it.
Any of these resources can be supported by my Online Research Skills Booklets Bundle, an eBook series in which students learn strategies to find the right information and how to avoid plagiarism. You can share the PDF with students for a paperless experience or print the nonfiction text out as a booklet.
If you like, you can take a peek at all my Online Research Skills resources before you pick out what is just right for your classroom.
I also wrote Teaching Students how to "Google It" to help teachers equip their students to research well online.