10 of the Best Upcoming STEM Conferences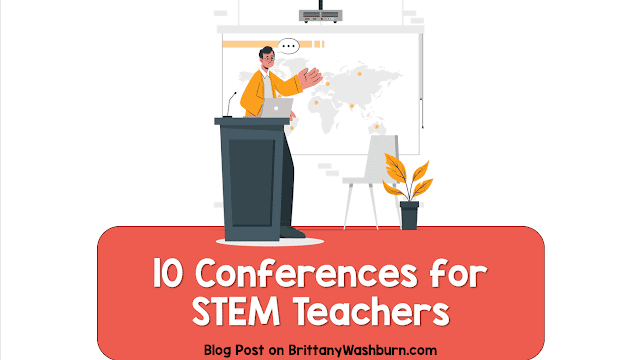 Education conferences are a great way to learn tips and tricks for your teaching, find out more about new instructional products, and make connections with other innovative educators.  They're also a fantastic place to get those professional development hours you might be short on!  These days, many conferences are either partially or fully virtual, and/or provide access to recordings of the sessions for a period of time afterwards.  This makes attending one easier than ever before. 
Here are 10 of the best STEM conferences coming your way, starting in Fall 2021 and going into Summer 2022:
October 28 – 30, 2021 Portland, OR
November 11 – 13, 2021 National Harbor, MD
December 9 – 11, 2021 Los Angeles, CA
Each year, the National Science Teaching Association hosts a national conference on science education (in the spring), three area conferences (in the fall, as stated in the dates above for 2021), and a STEM Forum & Expo.  The conferences for 2022 are scheduled in Houston, TX from Mar. 31 – Apr. 3, and another in Chicago, IL from July 21 – July 24.   
October 28 – 30, 2021 Virtual Event
SSMA (School Science and Mathematics Association) strives to build and sustain a community of teachers, researchers, scientists, and mathematicians.
November 4 – November 6, 2021 Virtual Event
AACU Transforming STEM Higher Education  
AACU (American Association of Colleges and Universities) conference this year is entitled "Nothing Stays the Same: Reflecting on, Reckoning with & Re-Engineering Undergraduate STEM Education".
January 25-28, 2022 Orange County, Florida
At the Future of Education Technology Conference you'll hear expert insights, meet with the leaders in the technology industry and find your people to help you advance even further in your professional goals.  The future of education is sparked by continually reimagining how technology can be incorporated into the different learning models. 
March 9 – March 12, 2022 Orlando, FL
ITEEA Standards for Technological and Engineering Literacy: The Role of Technology and Engineering in STEM Education
 The 2022 ITEEA (International Technology and Engineering Educators Association) conference focuses on the roadmap that Standards for Technological and Engineering Literacy (STEL) provides for all educators. The conference theme highlights the importance of the three organizers within STEL—standards, practices, and contexts with connections and learning opportunities for all STEM learners.
June 26 – June 29, 2022 Minneapolis, MN
2022 ASEE Annual Conference and Exposition
Now in its 129th year, the ASEE (American Society for Engineering Education) Annual Conference and Exposition is the only conference dedicated to all disciplines of engineering and engineering technology education. The premier event of its kind, the ASEE Annual Conference and Exposition fosters an exchange of ideas, enhances teaching methods and curricula, and provides unparalleled networking opportunities for engineering and engineering technology education stakeholders, including deans, faculty members, researchers, and industry and government professionals.
March 2 – March 5, 2022 Providence, Rhode Island
The Technical Symposium on Computer Science Education is organized by the ACM Special Interest Group on Computer Science Education (SIGCSE) and is the organization's flagship conference. It has been held annually in February or March in North America since 1970. The SIGCSE organization provides a forum for educators to discuss issues related to the development, implementation, and/or evaluation of computing programs, curricula, and courses, as well as syllabi, laboratories, and other elements of teaching and pedagogy.
April 2022
Elementary STEM Con believes educators deserve professional development that lives up to crucial work they are entrusted to do every day.  They aren't looking to simply deliver PD; they aim to provide an experience that builds skills and renews your passion and enthusiasm for teaching.
April 2022
The International Society for Technology in Education (ISTE) conference has been recognized as one of the world's most influential education events.  ISTE Live 22 will be a hybrid event featuring powerful voices and offering a treasure trove of content and resources for attendees in New Orleans and those attending virtually around the world.
Summer 2022 Denver, Colorado
Steve Spangler: Science In The Rockies
This conference is perfect for educators, administrators and curriculum specialists (Pre-K to 8) who want to explore best practices, instructional strategies and high-level engagement pedagogy for inspiring students through STEM.  Participate in more than 75 hands-on STEM experiments, demonstrations and design challenges that are aligned with the Next Generation Standards, and take home over $500 worth of teaching materials and supplies.
Pin this post to get back to later: