9 Quick Tips for Google Classroom
9 Quick Tips for Google Classroom
In no particular order, here are my 9 tips and tricks that you can use to be more efficient when using Google Classroom.
1. Reuse assignments 
across multiple classes.
After you schedule an assignment for one class, go to the other class you want to schedule it for and click the + sign and hit the reuse button. Select the class you posted the other assignment in and choose the assignment you want to post.
2. Use Google Slides 
to Link Assignments
Make one master Google Slides file for the week to share with students. Then within the Google Slides file, link to each day's assignment(s). That way students only need to find one assignment in Classroom.
3. Use Topics to 
Stay Organized
When students click on the Class Work Tab they can see each file organized by Topic if you take the time to organize your units into Topics.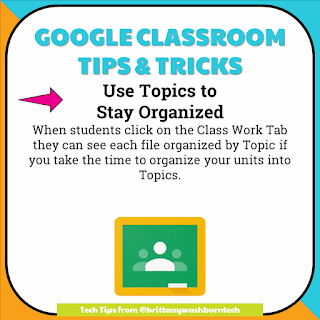 4. Use The Comment Bank 
to Speed Up Feedback
Copy and paste comments from the Comment Bank to speed up your process of giving students feedback.
5. Use the Slip-in-Slide 
Extension for Changes
If you change your document in google you have to reattach it to Classroom or the kids won't get the new copy. OR, save yourself a ton of effort and use the browser extension to add a slide to all of the student copies!
6. Turn Off the 

Google Meets Icon 
in Classroom
Otherwise students can access the meet when you're not there to present.
7. Turn Off Assignments 
Posting to the Stream
That way the Stream is used for announcements and is more likely students will actually see your important information.
8. Use Digital Stickers 
to Give Feedback
After students have turned in an assignment, add a private comment to give them feedback. Use Bitmojis or other digital stickers to add some color and positive reinforcement!
9. Use the Question Feature 
as an Exit Ticket
See what your students are learning with a quick exit ticket. Use the Question feature to have the answers all in one place.
Love tech tutorials and want more of them? Subscribe to the Technology Toolbox for Teachers. A one-stop library of technology tools tutorials for teachers. Click the image for more information and to see sample tutorials. 



Is there anything else you would add? Let me know in the comments! Otherwise, pin this post to get back to later.