4th Grade Software Lessons for the Computer Lab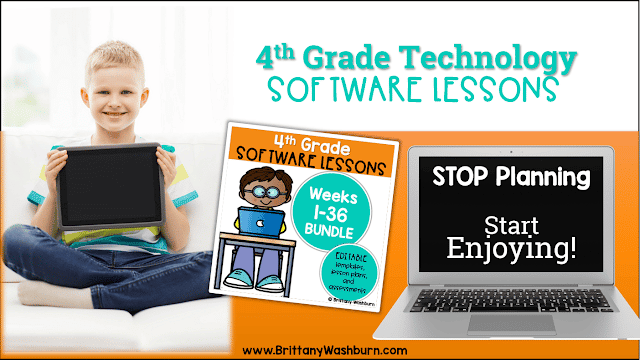 4th grade students love learning new things in the computer lab. By completing spiral review software lessons, they keep their skills fresh so that we can dive deep into projects. 
These Spiral Review software lessons for 4th grade teach presentation, word processing, and spreadsheet software over 3 sets 12 sessions. The skills build on each other throughout each unit so it is important to do the lessons in order. The units cover topics that are engaging and meaningful for students.
Weeks 1-12 are on the topic of Ocean Animals
Weeks 13-24 are on the topic of Space and Planets
Weeks 25-36 are on the topic of the Science of Color
What is included in each set of software lessons:
4 weeks of lessons for each type of software
Word / Docs / Pages
PowerPoint / Slides / Keynote
Excel / Sheets / Numbers
Customizable for whatever software version you have
Editable Lesson Plans:
•Mini lesson
•Vocabulary
•Materials
•I Can Statements
•Lesson components
•Assessments
•Space for reflection
Editable Daily Messages:
•Lesson Title
•Vocabulary
•Materials
•I Can Statements
•Lesson Question
•Space for you to add screenshots of your software program
Student Templates Provided
•Templates will convert to any version of software programs, but are provided in Office 365
Student Assessments:
•Formative assessment questions provided as editable Google Forms
TEACHING TIPS
1. These lessons are the 
main activity
 for a class. I recommend planning a warm up activity (like 10 minutes of typing) and early finisher activities (
here are sites you can use
). You're likely going to have some students complete the lesson in 5-10 minutes and others that will still be working when you say time is up.
2. In the lesson plans you'll see me talk about screencasts you could make. If you've never made them before, check out 
this blog post 
to learn more about it. Screencasts are a game changer!
3. You may upload the student templates to a learning management system or password protected page of your own website. As long as the files aren't available publicly on the web then you're following the terms of use. If you need ideas for how to share files with students, 
read this blog post
.
4. The assessments are optional but will be helpful if technology is a graded subject. If you're new to teaching technology and curious about grading these skills, 
read this blog post
.
WHO NEEDS THESE TECHNOLOGY LESSONS?
These software lessons are perfect for technology teachers, classroom teachers, media specialists, STEM teachers, or homeschool parents who want their students to know how to use technology to create content. By mastering these software programs, students will feel comfortable doing anything you ask them to do with it.
HOW ARE THESE DIFFERENT FROM YOUR TECHNOLOGY CURRICULUM?
The k5tech.net curriculum has warm ups and early finisher activities plus it is all housed on my website. These software lessons are just the main activity and assessments and I'm providing you with all of the files to put into your learning management system. The content in these software lessons does not overlap with the k5tech.net curriculum at all so you can use both.