5 Fun Resources to Teach Kids Typing
Teaching typing is incredibly important in the technology classroom. Unfortunately, many students begin their typing careers with their thumbs on a mobile device, but the sooner a student can be introduced to the keyboard and begin practicing typing, the more prepared they will be for the future. Here are 5 resources to support your students in learning to type as well as ways to keep track and assess their progress.
Typing.com
Typing.com is designed for teachers and students at every typing level. There are gamified lessons and engaging curriculum. With this program you can add your entire class log their progress. Additionally, the teacher portal allows for effortless class management and reporting. There are accessibility features for differently abled students. Best of all–it is free!
Typingclub.com
TypingClub.com has a lot of similar features as Typing.com. One major difference between the two is that TypingClub has a partnership with Google for Education. So, if your school is connected through Google, this may be a better choice for your students. It also has lessons for all grade and ability levels, is interactive, and free!
Nitrotype.com
Nitrotype is extremely popular at my school. What really sets this typing resource a part from the rest is that students can go head to head in a typing competition with one another. Students can also race against others all over the world. The downside of Nitrotype is that it doesn't have any lessons. It is simply a competition game. That being said, it might a make a fun reward for the class if they can finish their practice typing, or at the end of a period.
FreeTypingGame.Net
FreeTypingGame.net offers 40 different lessons to use. This is another great resource for students to assess, test, and play as they learn to type. FreeTypingGames has a ton of flash games that students can choose and then practice typing. There is a keyboard guide on the screen to help students keep from looking down. Of course, you can always have a sleeve on the keys as they learn.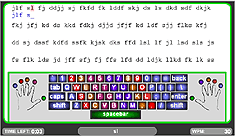 ABCya.com
ABCya.com has more than just typing games, but it continues to be a great resource to helping younger grade get a handle on their keyboarding skills. Just search for Type, and then you will be shown a variety of games arranged by grade level. It makes it easy for kids to see what games are good for their grade. Unfortunately, ABCya doesn't have assessment or progress tracking.
With those typing resources that don't allow the teacher to track progress, you can incorporate other ways of tracking through Google Sheets or some other way self-monitor.
Looking for typing resources to use as lessons?