Headphone Organization and Student Handling for the Computer Lab
Organization can be a challenge with so much students traffic in the computer lab. These ideas will give you the headphone organization options you need so headphones in your computer lab are accessible, clean & tangle-free. Once you've got things organized, we've also got tips to get students to handle the headphones with care so they stay in good working order.
As the tech teacher you may have a computer lab equipped with a class set of headphones and/or a set that travels around to pair with whatever devices are needed. Other tech teachers are expected to oversee helping students store their own headphones for school use. Many schools no longer use shared headphones due to health concerns such as lice and COVID. However, even in those situations many tech teachers keep an extra pair or two of headphones around for when students forget to bring their own.
Here's how you manage your headphone reserve, whatever it's size.
First, realize that wrapping the cord around the headphones increases the risk of damage to the internal wires. Instead, you want to put a system in place where the cord is either allowed to hang straight down or rolled in a loose circle and secured using a tie or cord wrap.
Cords are by far the part of headphones that is most vulnerable to damage. If possible, leave them plugged in to minimize damage. Also try take measures to make sure your cords are not catching on the edge of desks or under chair legs.
If possible you also want to keep your headphones away from:
– Heat or cold
– Sunlight
– Dust
There are several ways to accomplish these things and still keep headphones at the ready for students use.
Hanging Headphone Organization
Hang your headphones on the wall for students go and get when they're needed, leaving the cables dangling.
A shoe organizer hung on a wall or door in the computer lab works well for many teachers.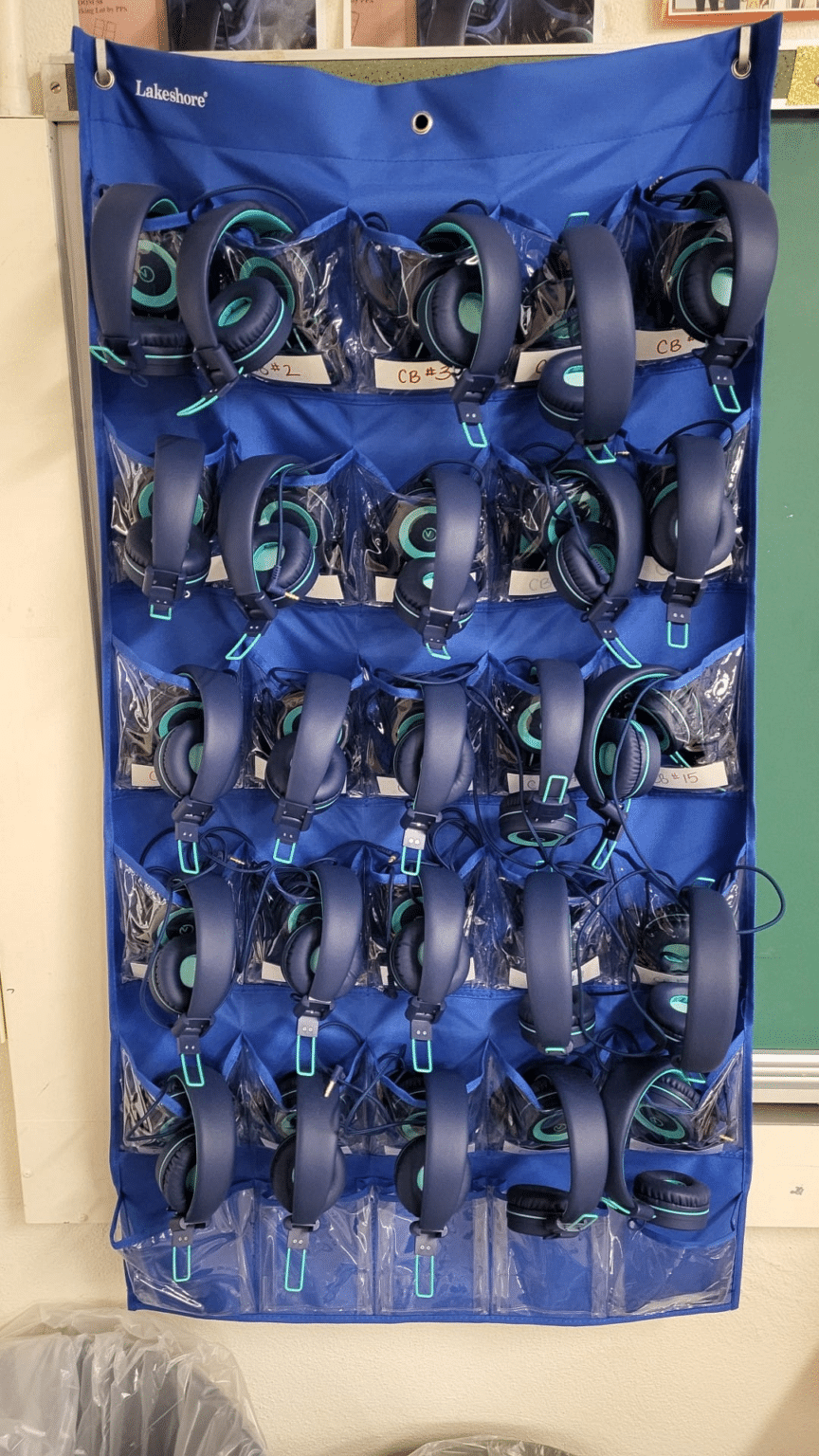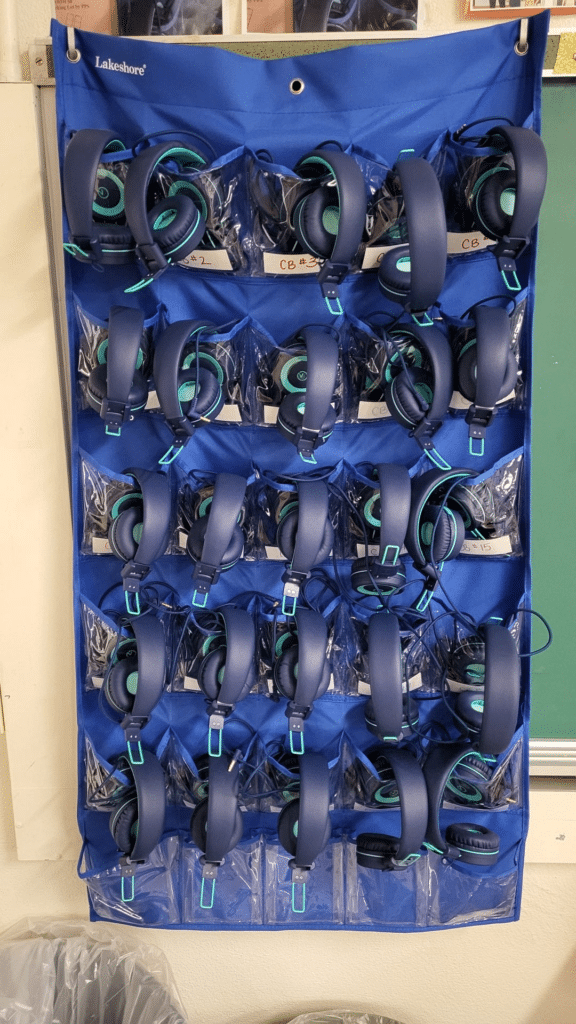 If your walls are cinder block and are not conducive to a wall installation, you still have options. Use a rack like the one pictured below to organize the headphones in your computer lab with cords dangling.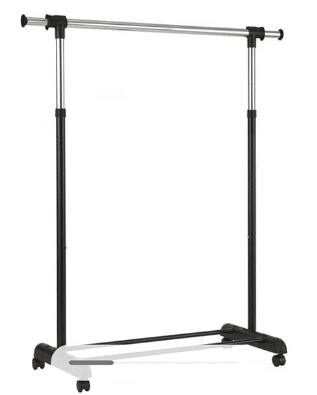 Have a 3D Printer? We found this design for an under-shelf headphone hanging hook that might work well for you as well.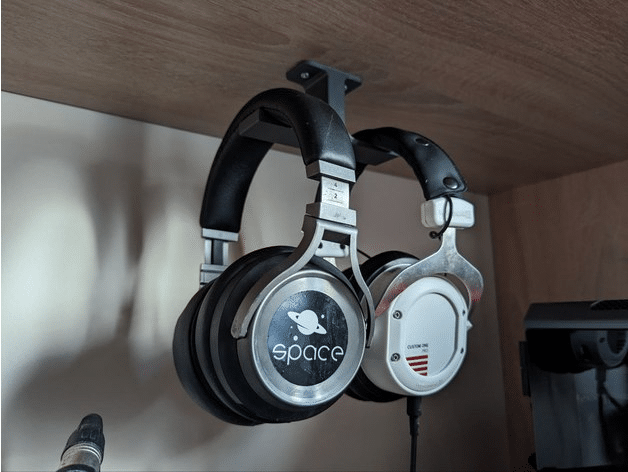 On the Monitor
Use command hooks to hang your headphones on the corner or the back of the monitor. These are cord bundlers work quite well also.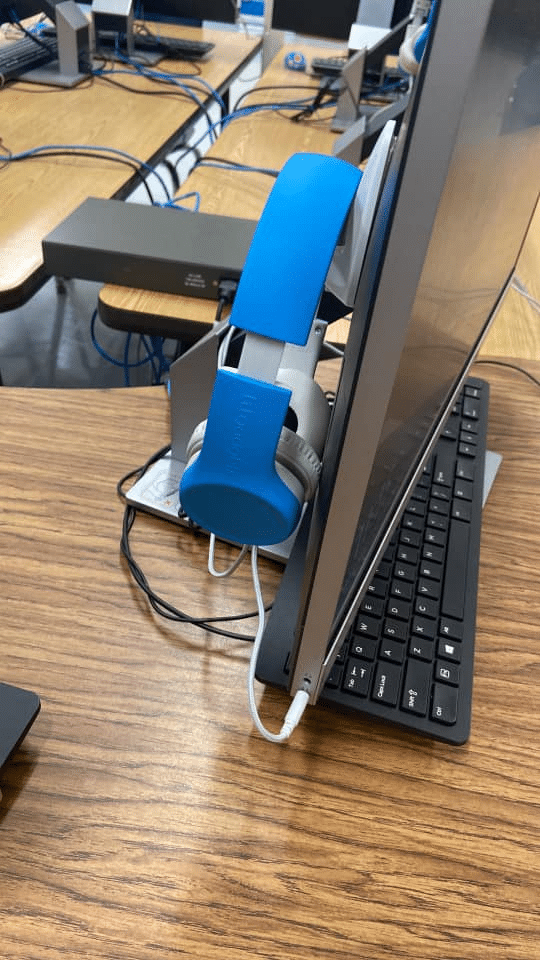 One teacher designed a 3D printed hook that hung on the monitor with the headphones on the back.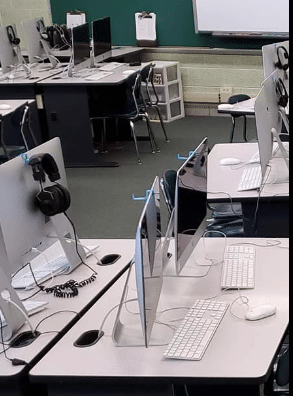 One teacher we spoke to recommends wrapping headphones and placing them on the CPU, rather than on the monitor, if you regularly use them with Pre-K and Kindergarten. Your smallest students may not be able to reach all the way up to the monitor!
Headphone Organization in Storage Bags or Boxes
Durable storage bags for each of your headphones can safeguard the cable and the plug from accidental damage.
Keep each pair in a zip lock with the student's name on it, then assign each class their own tub of headphones.
Organize headphones and other critical materials in book bins beside the monitor. This set-up allows you to spray everything with cleaning solution without spraying the screen!
Use chair pouches to hold headphones and mice on the back of the chairs in our computer lab. There are Dollar Tree versions, but they do have some durability concerns. A teacher in our Facebook community used flat sheets and table cloths from the thrift store to sewed a class set for under $20. They came up with an easy pattern that only used two quick straight stitches along the sides (because you use the already sewed seams from the original fabric).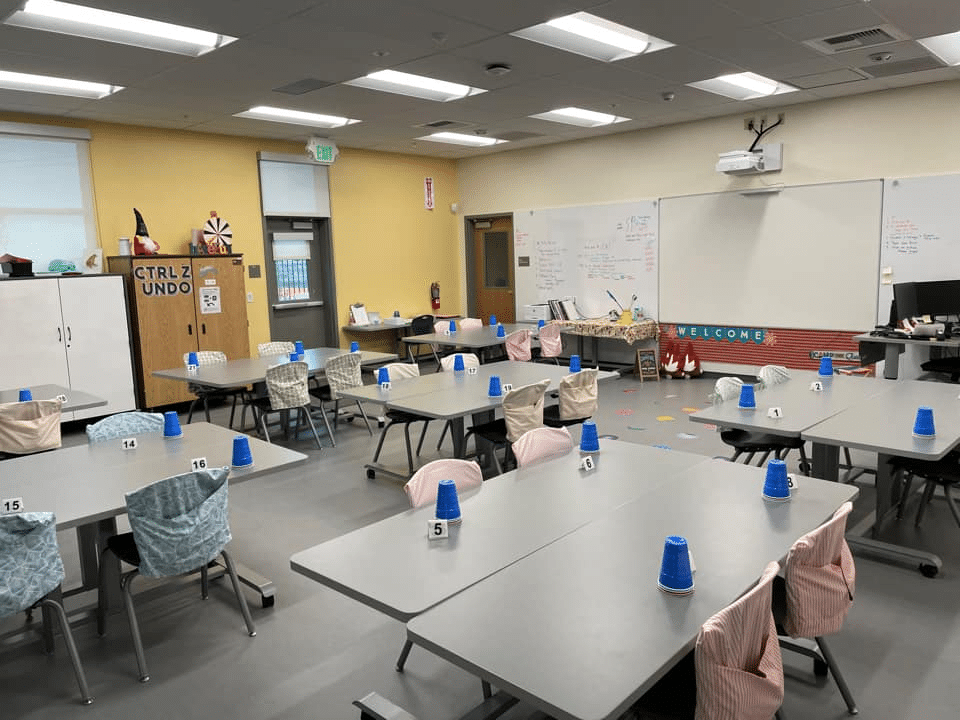 For a simpler approach to headphone organization, have students place headphones on the seats of their chairs at the end of class so the next student can simply pull the chair out and put them on.
Store a dozen or so small cheap headsets in a UV cleaner. Kids can grab a pair if they forgot their own and then return them to the UV cleaner when finished. Just run the cleaner between classes. This layout works both in your computer lab or on a travelling cart!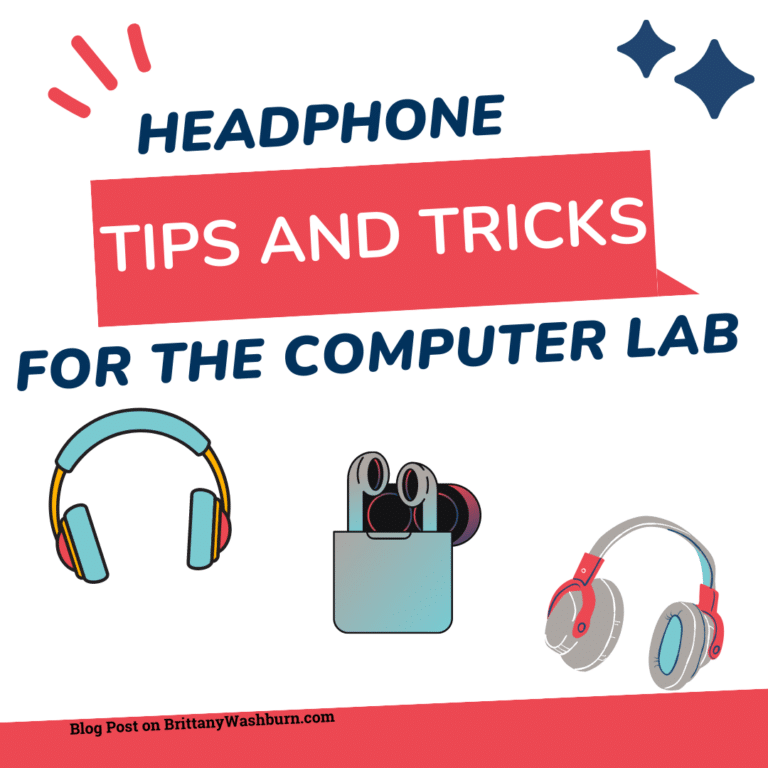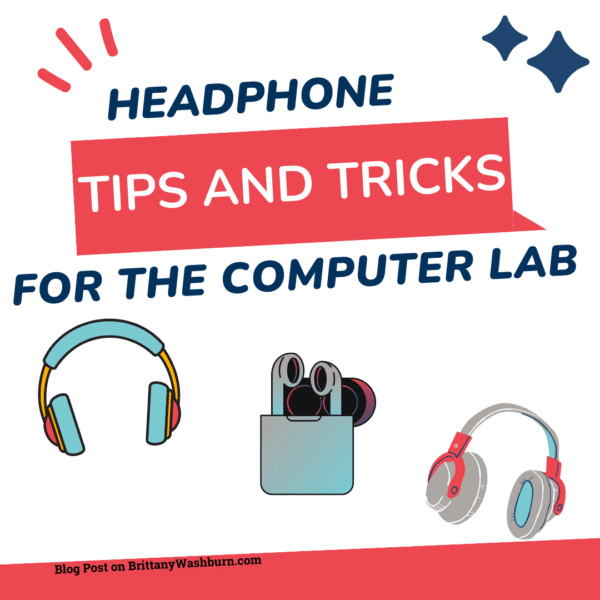 Teach Headphone Care
Explicitly teach students of the importance of taking care of school headphones. Make it more fun! Several teachers make creative games and fun activities to review critical points students should remember when using school headphones.
Make sure your students understand the stakes. As a result of mishandling, you could end up with speakers that are plagued with static or will not produce sound at all. Go ahead and brainstorm a list of the activities they won't be able to do in class without headphones.
Rehearse with students.
It is always helpful to give students an understanding of how important it is to be delicate with the cord and connector, and it is usually the first thing to get damaged.
Headphone Cord Care
Never tug, pull or twist the cord.
When Disconnecting and Storing:

Do not pull by the cord or the headphones.
Grasp and hold onto the plug, then gently remove plug from the device.

Store according to the system your class has put in place.
Cord Chewing
Do you have a few kiddos who can't seem to stop themselves from chewing on cords?
Keep a stock of hard candies, or chewing gum if your school allows it. Choosing flavors that provide stimulation – sour or hot flavors, for example – may bring you the best luck. On a practical note you may want to provide wet wipes nearby to counteract any potential stickiness that may ensue. You can also do some of your own quality control (not all lollipops are created equal in the stickiness department), and test out a couple of different brands to find out which ones are the least messy… I've personally had the best luck with Dum-Dums.
Another option is to build a small stock of handheld chews, chewelry necklaces, chewable bracelets, or chewy pencil toppers. These items are safe, washable, and provide the oral stimulation your kids may need.
Wire Protection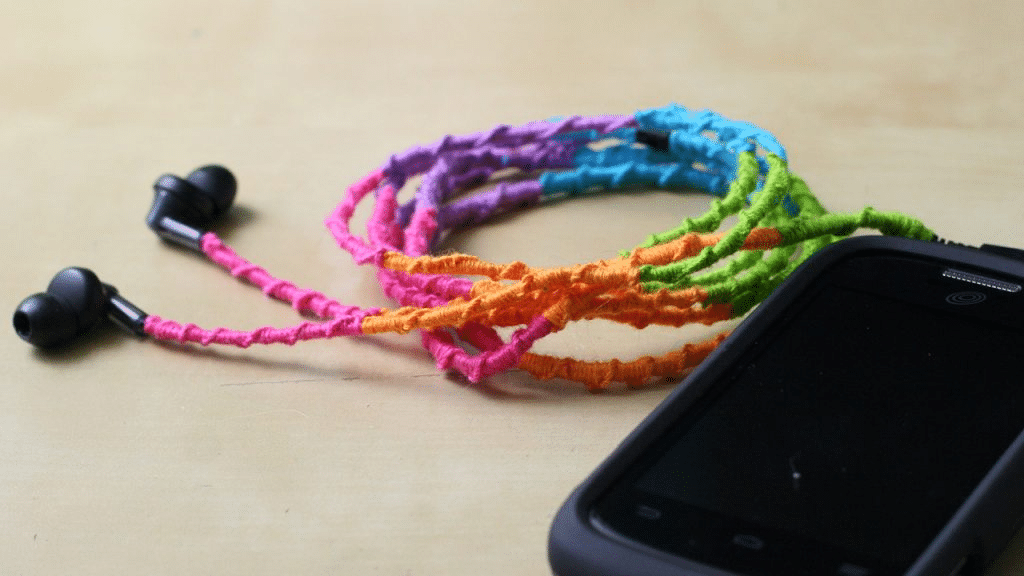 These tutorials to create tangle-free cords with macramé offer your headphone cords an added layer of protection. They might be just the solution you're looking for. This could be a great project for early finishers to peck away at, or to do yourself alongside other tasks if crafting is cathartic for you.
Don't give up. Try different things and find the headphone organization and care regime that works for you! Check out this post for more Organization & Cleaning Tips for Classroom Technology.