10 Independent Professional Development Resources for Teachers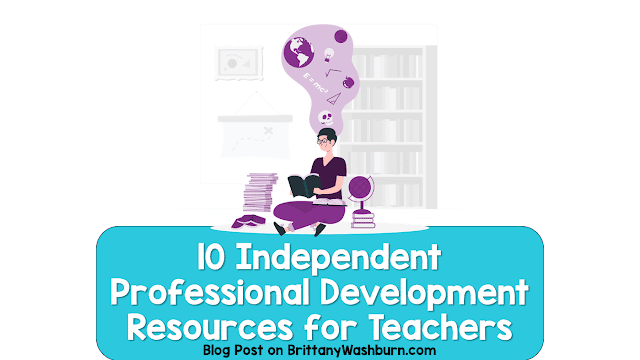 Time to recertify but you're just a bit short on hours?  Looking for ways to empower other teachers to take control of their own professional development?  Here are a few ways to get those CEUs (Continuing Education Units) independently.
Websites that Offer Online Courses
These sites all offer at least some if not all of their courses free of charge.  They also provide certificates or other concrete ways to record your hours.  Even if at first glance it may seem like you need to pay for documentation, don't underestimate the value of a few well organized screenshots as your evidence of completion.
This platform offers courses in many disciplines, so you have to hone in on teacher specific courses.  However, everything is both self-paced and free to complete. 
Build skills with courses, certificates, and degrees online from world-class universities and companies.  They offer many subjects, so you will have to search for something relevant to you within the Social Sciences subheading.
Series of virtual workshops specifically for teacher professional learning.   Available in live (for credit) with professional learning certificates available, and on demand (without credit) formats.  All sessions are aligned with the ISTE Standards for Educators and include documented objectives.
Inspire offers more than 70 free, on-demand courses to support teacher training with 30- and 60-minute courses to fit into your busy schedule, certificates of completion, and a learning portal that is easily accessible on mobile or desktop.
Professional development webinars and resources for teachers.  The information page for each should inform you how many hours of PD credit you can expect to earn, and a certificate of completion will be available for download at the end of your session.
Webinars that provide you with the latest research on how the brains of struggling students learn best with Certificates of Attendance available upon request.
APA's Center for Psychology in Schools and Education 
Resources for preK–12 teachers and other school personnel that are based on psychological science designed to enhance student teaching, learning, and well-being in school. All programs have been reviewed and approved by APA's Office of Continuing Education in Psychology to offer credits for educators and/or psychologists.
This website is just for teachers and educators, offers a wide variety of practical topics, and is very well organized.  They only have one of those courses for free, however, offering the rest for a fee ($4/credit hour) or as part of a subscription.
Conferences  
These days, many conferences are either partially or fully virtual, and/or provide access to recordings of the sessions for a period of time afterwards.  Most conferences will have instructions about how to earn credits from their sessions somewhere on their website, so take a look around before you get started to make sure that the hours you're spending are getting you the credit hours you need.
State Department of Education
Check around on your state's Department of Education website.  They often have a professional development page where they have compiled on demand resources, a calendar of scheduled events that can include in-person training, live webinars, and more.