Introducing the Ultimate Tech Companion for Teachers: The Technology Toolbox for Teachers
🍎 Are you a dedicated educator looking to stay ahead in the world of educational technology?
📚 Do you want an extensive collection of user-friendly tutorials for over 120 popular tech tools at your fingertips?
🧡 Are you eager to discover creative ways to engage your elementary students with cutting-edge resources?
Look no further! The Technology Toolbox for Teachers is your one-stop solution to all your technology needs in the classroom.
🚀 Stay Ahead of the Curve
In today's fast-paced digital world, educational technology is evolving at lightning speed. With our premium membership, you'll always be in the know. We continuously update our library to include the latest tech tools as they emerge, ensuring you're at the forefront of educational innovation.
📚 Your Personal Technology Library
Imagine having access to a vast collection of over 120 technology tools, each presented in an easy-to-follow format. Whether you're a tech novice or a seasoned pro, we've got you covered. Our library is designed to cater to your needs, providing everything from a basic introduction to in-depth tutorials and creative ideas for classroom use.
👩‍🏫 Designed with Educators in Mind
Our content is tailor-made for educators like you. Each tech tool page is divided into three sections:
Intro to the Tech Tool: Perfect for those unfamiliar with the tool, this section provides a clear overview of what it is and what it does.
How to Use: Our tutorials are designed to be user-friendly. We offer guidance for tools with challenging navigation and keep it simple for the rest. There is a link to a Google Slides presentation for each tech tool that you may use with the staff at your school.
Ideas for Use: Spark your creativity with a wealth of ideas for engaging your elementary students. While these ideas are aimed at younger learners, these tech tools can be adapted for use across various age groups.
🌟 Endless Possibilities
With the Technology Toolbox for Teachers, the possibilities are limitless. Here's what you can achieve:
✅ Empower Yourself: Learn and master the latest tech tools at your own pace, making you feel like a pro when it's time to share them with your students.
✅ Lead Professional Development: Become the tech guru at your school! Use our tutorials and ideas to lead engaging PD presentations for your fellow staff members.
✅ Inspire Your Students: Discover a treasure trove of lesson ideas that will captivate your students' imagination. These ideas are just the beginning of what you can create.
🎯 Who is the Technology Toolbox for?
This resource is a must-have for school curriculum developers, tech coaches, and any school staff responsible for providing tech training. It's designed to save you precious hours by providing ready-made training materials and classroom ideas.
💡 Still Wondering?
Yes, some of the tools we cover are free, while others may have a cost associated with them. We provide the information you need to make informed choices.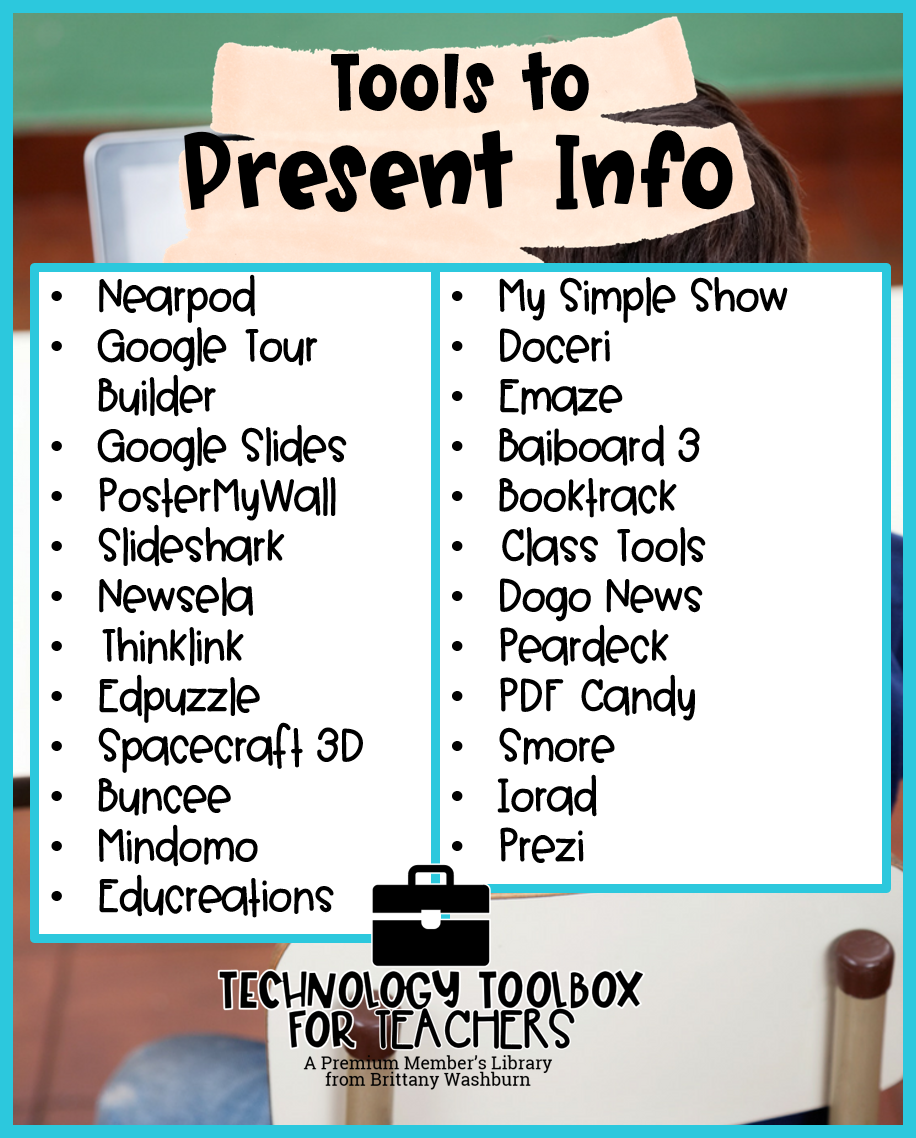 Wondering what you'll use this for? Here are some ideas:
Teach yourself the latest and greatest tech tools as your own pace. Feel like a pro when it is time to use them with your students.
Use the tutorials and ideas to guide a PD presentation for the staff at your school. They will really appreciate learning from you. *Reach out to me if you want to use this information for a bigger-scale presentation.
Get inspiration for lessons to try with your students. These ideas are just the beginning!
In addition to the tech tool tutorials I have also added professional presentations I've done for virtual conferences.
Digital Interactive Notebooks for ELA
Keyboarding Instruction that Works
Tech Skills for Teachers
How to Rock at Teaching Virtually
iTECH Model Research
Using Coding Robots to Teach the 4 C's
Join the Technology Toolbox for Teachers today and elevate your tech-savvy teaching journey. Unlock a world of possibilities and inspire the next generation of learners with the latest and greatest educational tech tools. Don't miss out—subscribe now! 🎓🌐🚀
---
These are all of the tech tools and topics included in the premium library. There are several sample pages marked with the text "sample lesson" in blue that you can use to see what you'll be getting.